Imagine the dim environment, slow playback music and you just lean back on the comfy armchair reviving all the splendid memories. Suddenly the old-fashioned record player does its magic and music stops. The dream is finished and so is your peacetime. You certainly don't want that.
Upgrade your old-fashioned record player with the Best Bluetooth turntable that provides the exact classic vibes. And the renowned features increase the quality of your peacetime with improved sound quality and no entanglement of audio cables.
For you, we've compiled the list of the 9 Best Bluetooth Turntables. Each one promises you the best experience with the help of its prominent features. In case you have a short time now our today's top pick is Sony PS-LX310BT Belt Drive Turntable for quicker buying. It comes with all the bells and whistles that you expect from a great turntable.
The List of Best Bluetooth Turntables in 2022
The comparison chart below lists all the best Bluetooth turntables for you to help you quickly purchase the ideal one.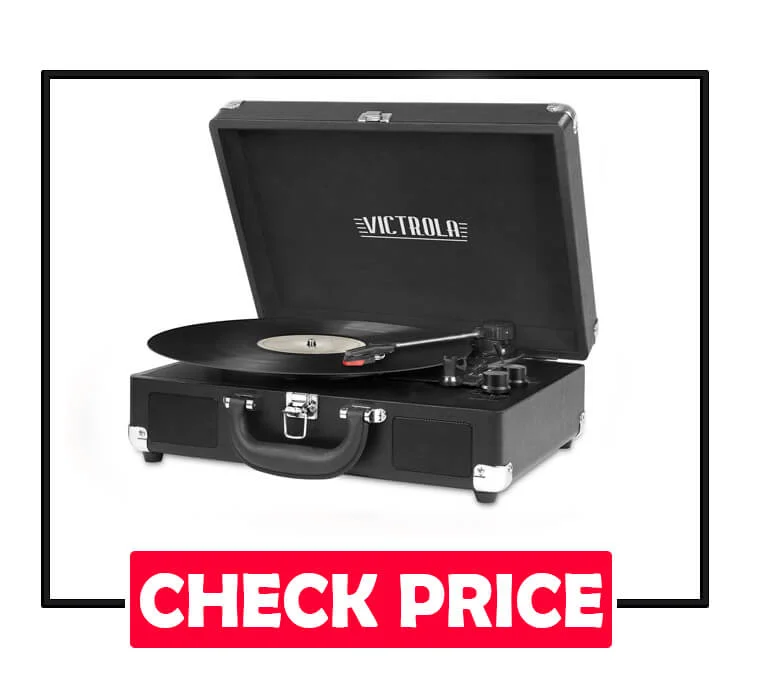 First, on the list, we have the Victrola Vintage Portable Suitcase Turntable. It's named the suitcase because you can carry this one like a suitcase whenever you want to with its easy carry handle. Connect with your mobile through Bluetooth and enjoy the music anywhere. If you want to have personal time with music, connect this portable suitcase with your headphones. No need for annoying cables and all. Just you, music, and your mental peace.
You can't only connect the Victrola Vintage to the Bluetooth devices, its advanced technology has more amazing compatibility than this. It connects with non-Bluetooth devices also, such as a CD player through the line input. Want to connect with a big speaker system for the party, they place the stereo RCA outputs in this turntable to give you exactly what you want. Besides such smart features, it also has a headphone jack if your headphones are not charged enough to give you wireless music time.
This 3-piece record player has the five-star sound quality to make you feel the organic emotions of your favorite old and trendy music. And for the people who don't know how to make this new fashion perform, don't worry, it has a simple system to function. It has an input select knob system, power, and volume knob that let you easily start this stunning record player in a few seconds. An auto-stop switch stops the spinning once it finishes the music.
Pros
Lightweight and easy carrying.
33-feet Bluetooth range.
Customized Preamp.
Non-vibration system.
Cons
No refunds from the brand.
Why do we like it? Just the perfect way you would want your record player. Great distance range, great sound quality and the easy to carry system is the most liked thing in this vinyl record player.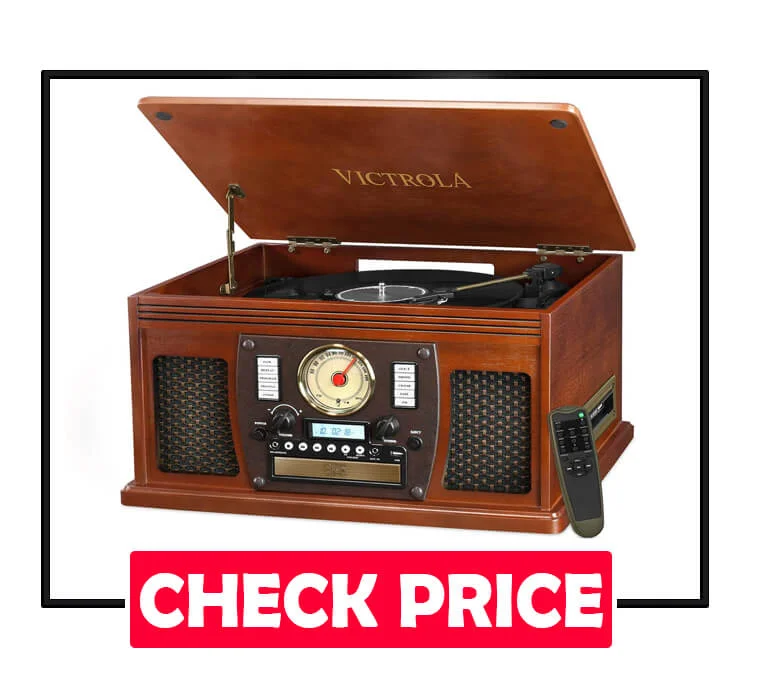 The old classic era of music, that's how you'll feel when you see this Victrola Bluetooth record player. Its design is perfectly executed with the idea of the 90's gold music period when record players were new in the market. And everyone wanted to have this gem in their house to showcase their amazing music taste. Classy design with trendy features makes this record player a perfect addition to your living room, bedroom, or office.
The best thing you'll find in this record player is its built-in CD and cassette player. Fall in the depths in the nostalgic music through this unique feature. 33-feet Bluetooth distance range permits the music vibes to reach your ears while you're finishing your pending work far from the record player. If you're fond of entertaining radio programs, you might love this Victrola record player because of its incredible radio streaming frequency.
It has RCA line outputs that help in quick connectivity with non-Bluetooth devices like amplifiers and external speakers. Headphone jacks have also been placed, so you can listen to music without interrupting others. Unlike some vinyl record players, this belt-driven turntable has a proper control system. FM tuner, input selection mode, and volume knob give you total control over your music time. And the remote function mode just makes things easier and fun for you.
Pros
8-in-1 entertaining functions.
Special vintage design.
Deluxe sound.
Remote controlling system.
Cons
Difficult to move because of the complicated hinge.
Why do we like it? The record player appears to be a vintage wood look, besides it has more trendy and classy features to entertain you and give peace of mind with raw feelings of slow music. Premium sound quality and easy control with the remote make it more special and worth buying.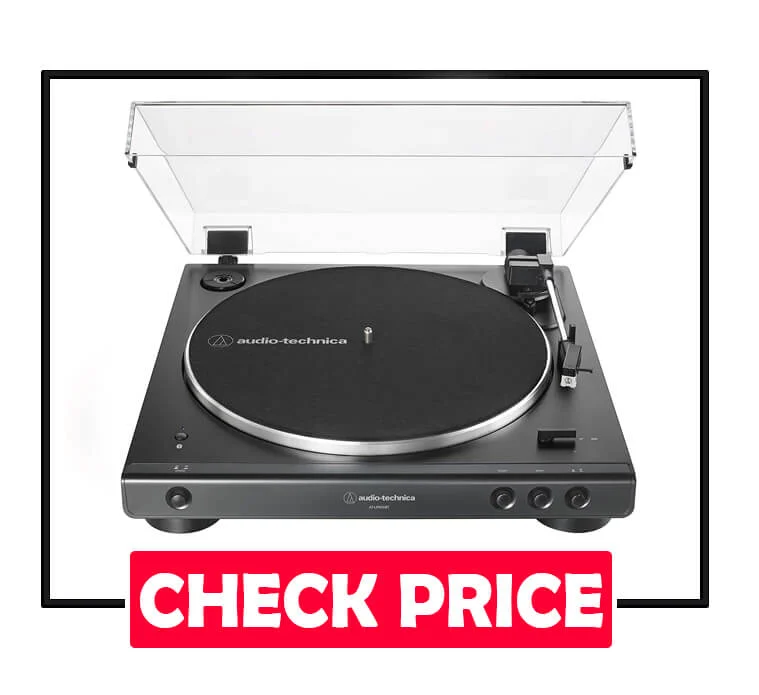 A new era, new design, but the feeling of music remains the same. The Audio-Technica turntable suits exactly this phrase. Its innovative design may take a brief space in your living room and will sit proudly on the table offering high-end music. While leaning into your favorite music, it ensures that you don't miss out on any beat and also reduces any noise which might disturb the preoccupied environment.
The AC adapter in this great record player takes the responsibility of giving your entertainment time with peace and no annoying babble. It's die-cast aluminum platter controls excessive vibration through its anti-resonance technology. And if you look at its simple system to function, you'll be surprised to know that it has a completely automatic system with two speeds. Play relaxing music and let it reach you with its amazing true-to-life sound quality.
Connect your turntable with Bluetooth-enabled devices such as your phone, iPods, and speakers to better explore the music. And if you want to connect this record player with non-Bluetooth devices, don't be concerned. You can easily do it with the help of its line-level output. Further, the limited Bluetooth range is not a problem anymore. As the Audio-Technica promises to give enough distance range, within that you'll easily enjoy the music even if you're in the second corner of the house.
Pros
High-fidelity audio quality.
Automatic functioning.
Upgraded tonearm.
High performing AC adapter.
Why do we like it? Smart design with smart features, why would someone choose to leave this golden opportunity. It has all the mandatory features, the true music lover wants. And the very amazing features are its noise-reducing system with the high fidelity video quality. These two things are the strong base of this incredible record player.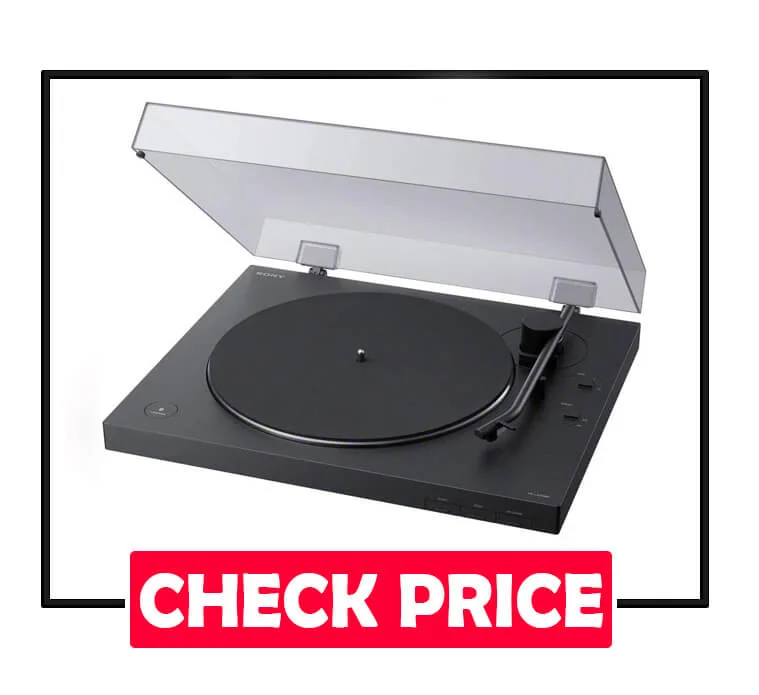 Now the turn of favorite and first pick comes. The Sony Belt-driven turntable is a renowned record player and often gives tough time to its competitors. First, let's discuss its elegant design. Well-made with quality aluminum and a smart straight design, the appearance of this Sony's record player impresses the trend enthusiasts. And the thick dust cover saves the turntable's performing ability from the children by not allowing them to touch.
In this vinyl recorder, you'll get three major mode switches; low, medium, and high. Switch the gain and let your music match the level of your current mood with no distortion. The auto-system playback adjusts the tonearm for the smooth flow of music waves. No need to adjust the tonearm when the record stops, the auto-system lets it get into the default position itself. Don't forget to press the button to activate the automatic system.
The question which must have arisen in your mind is what about the sound quality. Is it as good as its other features? No, it's just not only good, its sound quality is extraordinary. Its aluminum tonearm uplift the traceability for rich and clear sound results in a powerful bass. And the thick dust cover silences the noise of speakers for less contortion. Wireless connection with Bluetooth-enabled devices or wired connection with the help of RCA cables offers great capability.
Pros
Aluminum die-cast platter.
Upgraded tonearm design.
One-step automatic system.
Easy transfer through USB.
Cons
Can't connect with computer.
Why is it our top pick? After finding some time, we couldn't come up with a reason to not like this astounding record player. The premium quality of sound lets the music develop in your surroundings, makes you fall in love, and thanks Sony to introduce its record player to you.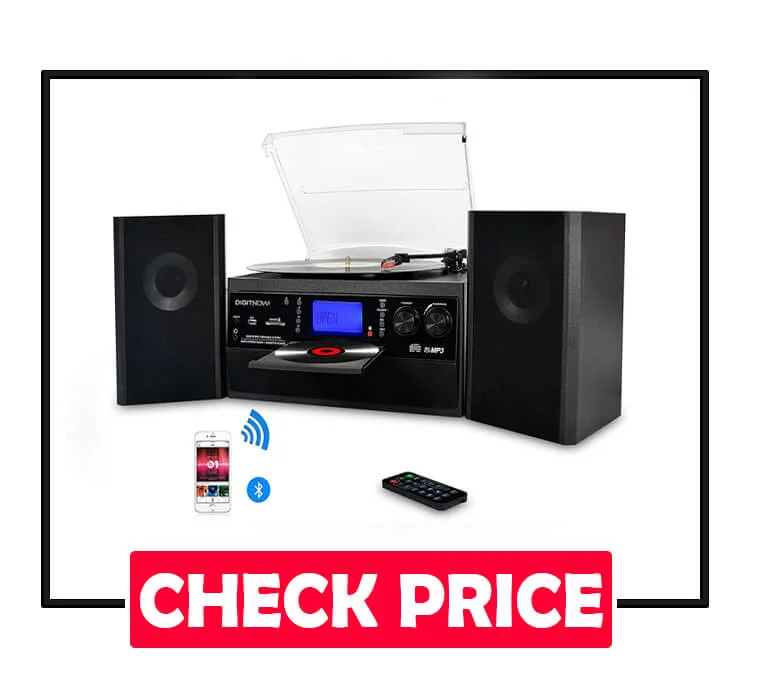 The DIGITNOW Bluetooth record player comes with stereo speakers to give you more authentic sound compared to other ones. The way it is designed gives the feeling of a record player on the top of a CD player. You want the turntable to act like a CD/cassette player or record player; it depends on your liking. And let us tell you, it performs these both roles smartly. Built-in CD player controlled by remote makes the process further simple and quick.
The speakers come with the DIGITNOW record player that doesn't allow you to compromise on the sound quality. Their crisp, clear and realistic sound let you feel the live music experience with no clashing sounds, the sounds you may have experienced in some turntables. And the remote control system permits the owner to sit back on the couch, relaxed, and control it with just mere hand movements on the remote. For lazy persons like us, it sounds perfectly life-saving.
The straightforward process of connecting to other devices completes in less than 30 seconds. Just turn on the Bluetooth on your mobiles, laptops, and other devices. Search the DIGITNOW record player and let them connect in no time. Enjoy the classic feeling of music with the latest music playlists downloaded on your mobile and laptops. And if in case, remote gets stolen you can control the record player with the help of control buttons given on the turntable.
Pros
Transform vinyl record to mp3 recording.
High range stereo speakers.
2-in-1 function mode.
Integrated FM tuner.
Why do we like it? The features are pretty amazing to make you think once to own this beneficial record player. It is a decent record player with no impressive durability. We just hope that brands consider the much-needed update to increase longevity.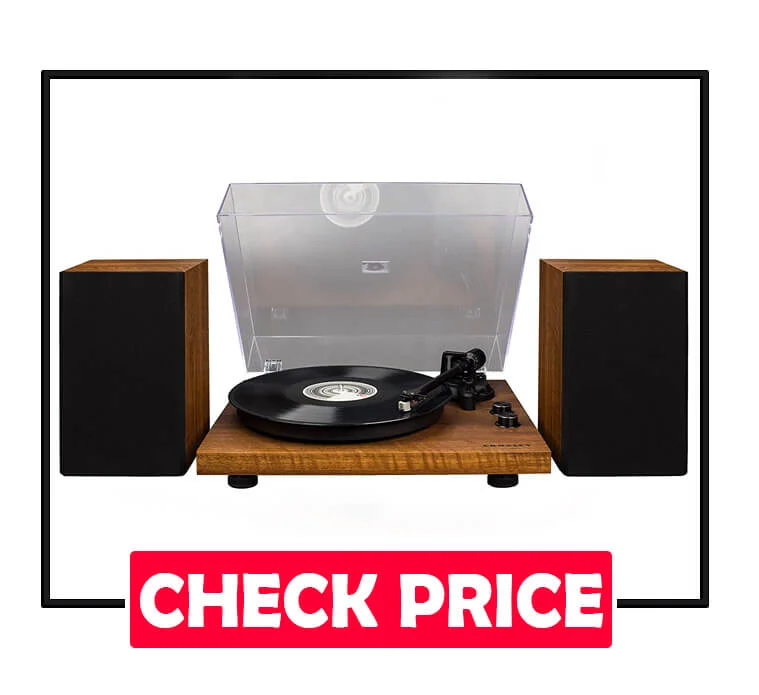 Like the last one, a pair of speakers also comes with the Crosley 62 Vinyl Turntable. Elegant design with beautiful walnut color will surely enhance the look of your bedroom and living room. Just decide the place to place this small music set up in your home and enjoy your peacetime with slow music spinning on the record player. To help you concentrate on the music, the turntable has an adjustable tonearm that tracks the flow of music smoothly.
Its heavy steel platter controls the excessive vibration, to let the record player rest in one place and gives you the dreamy music experience. Moreover, the included Hi-Fi speakers, and their sound quality won't make you feel the need for a big sound system ever. And its built-in preamp stabilizes the signal, to assist you in connecting with other devices. Listen to the music and enjoy the smart features with no complicated process.
Wireless Bluetooth technology connects itself with other devices easily. It quickens the process of connectivity with no hassle, just within a minute, you'll be ready to experience the joyous music period. If you're a beginner and this is your first time buying a record player. It has super minimal, just two knob controls for the sake of beginners. Super easy to switch the mode of the record player to the Bluetooth receiver by just pushing the button.
Pros
Vibration control.
Quick compatibility.
Adaptable tonearm.
Amazing for new users.
Cons
Poor instructions for the user.
Why do we like it? When you decide to buy this Crosley C62 vinyl turntable, don't let second thoughts come into your mind. Just trust your gut feeling and go for this. Its attributes and permanence make you stick to it, listening to the soulful music, and spend me-time with no disturbance.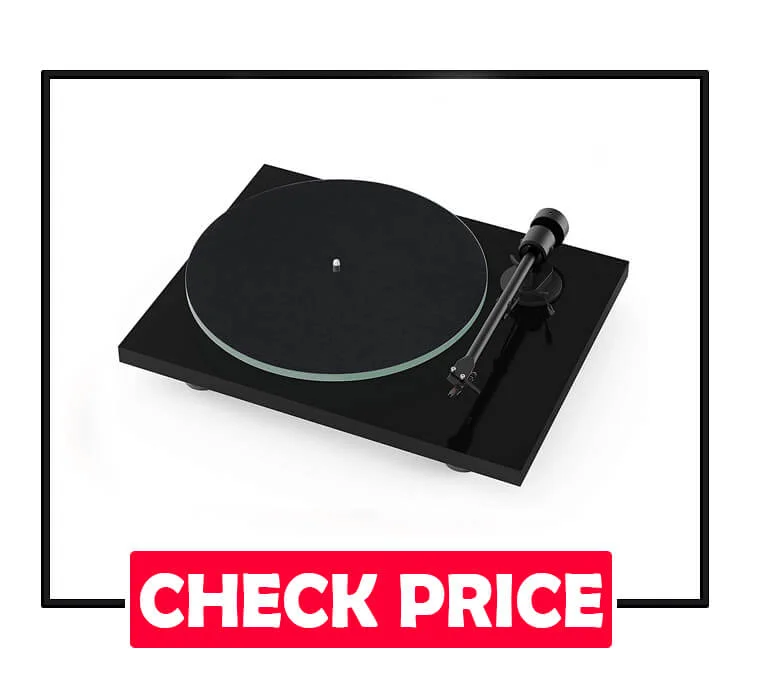 Wish to have a record player that has all advanced beneficial features at a reasonable price? This Pro-Ject turntable will fulfill your wish. It offers reliable performance with no compromise; the best thing is, you won't have to do the hectic assembling process as it is pre-assembled. Carefully take the record player out of the box, and that's it.
Its one-piece tonearm design constructed with premium aluminum doesn't allow the annoying vibration sound that comes in the way of your calming music time. Blasted-glass platter ensures the smooth playback of records, by canceling all the muffled sounds of speakers. Dust Cover lets the record player spin the music with no external disturbance by your pets and small kids.
Its upgraded sound quality may not give the traditional vibes but among other record players, it stands proudly because of its OM 5E MM magnet cartridge. This gives high-quality sound music and lets you live in the moment wholeheartedly. Additionally, it offers both wireless and wired audio experiences The built-in phono stage and Bluetooth let the turntable connect with all devices for exploring better and better.
Pros
Built-in pre-amplifier.
Easy to install the system.
Fast Bluetooth connectivity.
High-quality material.
Cons
Not suitable for beginners.
Why do we like it? The thing you'll like most in this turntable is its natural sound quality. And the longevity of this quite impressive record player. Just know that it's not great for beginners, if you have prior experience of using turntables then go for this astonishing vinyl recorder.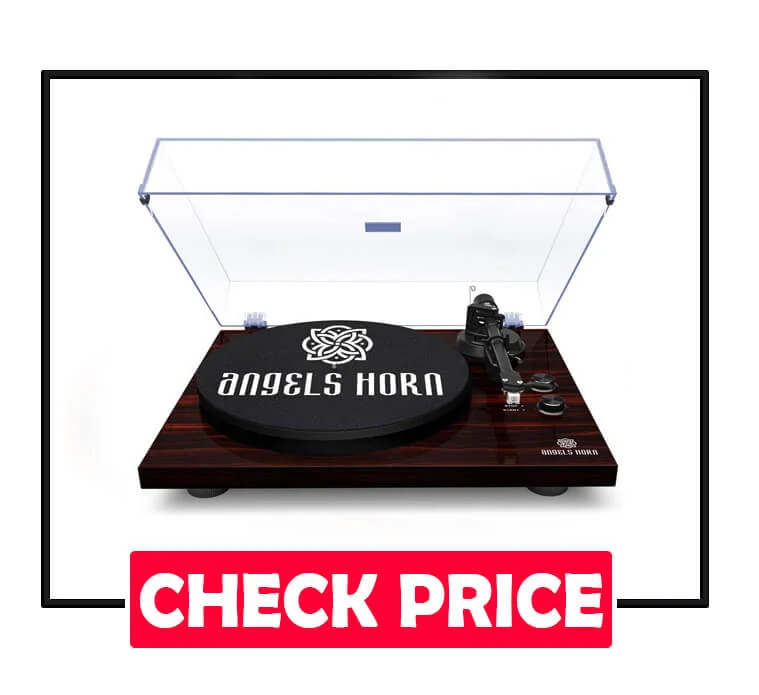 This all-in-one turntable is produced with a solid iron platter. Not heavyweight, and incredibly best in offering an exceptional experience to its users. The Angels Horn Bluetooth turntable has a belt-driven design to absorb the shock and gives disturbance-free personal music time. This beautiful vintage record player may look like the time-honored turntable, but it has all the required features you wish to own.
Spin the classic music or connect with the Bluetooth-enabled device and play the trendy song, its anti-skating weight system uplifts the sound quality that affects the mood greatly. It also keeps the stylus perfectly in the record's groove, so the vinyl will always be scratch-free and you'll have noise and distortion-free music sound. The most amazing thing about this product is its anti-skating weight system, which performs several functions to maintain the durability of the recording player.
A two-speed turntable keeps the rotation speed in control according to the vinyl recorder. So you properly feel the music emotion with no disagreement between the vinyl recorder and spinning. And built-in phono preamp makes things less complicated, as it is beneficial in the connection between the record player and non-Bluetooth devices. On the conditions of beginners, the Angels Horn has useful customer services ready to help in installing and other related problems.
Pros
Anti-shock system.
Maintain the consensus between the spinning and vinyl recorder.
Customer-friendly policies.
RCA outputs.
Cons
Complicated control system.
Why do we like it? It may not be the best for old people and beginners. But it's perfect for the classic devotees who always look for the record player that gives heart-touching feelings while creating the dim music environment.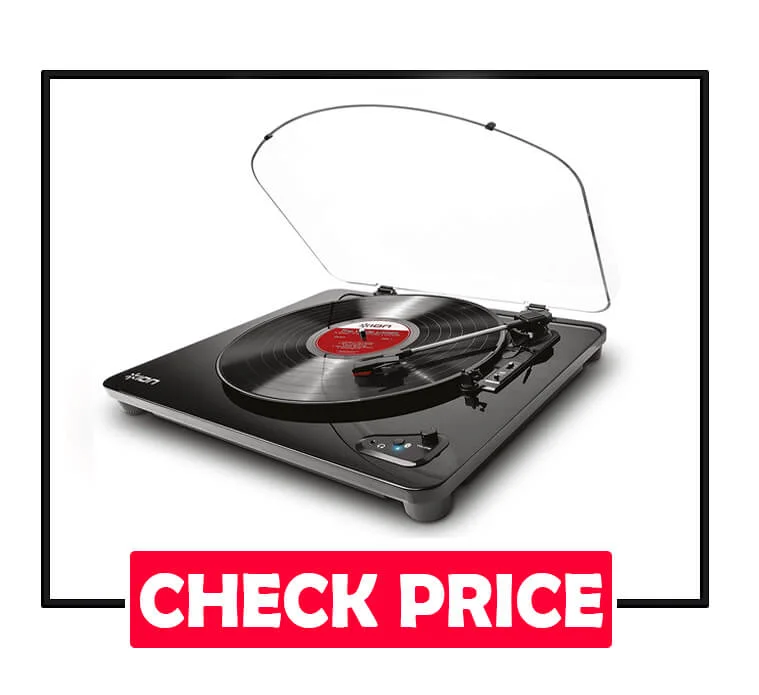 Last, we have another amazing masterpiece, the ION Audio Vinyl record player. The company guarantees its durability so you don't have to worry a bit about this. And talking about its performance, we are sure that once you bring this little music set up in your house, you're not letting it go anywhere. Its platter will make your life a little easier by stopping the rotation once it reaches the end through its auto-stop system. Quietly sleep listening to the calm music on this eye-catching record player.
If you want the music to yourself disturbing no one, get your headphones and enjoy this private music session with the inner you. Make sure that you sit within a 3mm reach for a wireless connection. Otherwise, it has headphones output for a wired experience. Its built-in cassette and CD player surely make you remember the old times of passionate music. Its diamond-tipped ceramic cartridge provides stable signals for simple and fast connectivity.
Furthermore, it has universal compatibility so the connectivity problems are not a thing with the ION Audio turntable. Whether you have MAC or PC, iPhone, or Android, it has great capability to connect with all devices irrespective of their kind and brands. Bluetooth enabled or not, connection with a big sound system is a piece of cake. RCA outputs come to the rescue of home parties to let you enjoy the full blast music on this classic record player.
Pros
Spectacular connectivity options.
Excellent music sound.
10M Bluetooth range.
Record albums.
Cons
Connection takes more than usual time.
Why do we like it? If you ignore the hectic time, it takes to connect with other devices you may get to love this record player. All other outstanding features are decently helpful in giving the joyous experience of classic blended with trendy. Also, with the amazing guaranteed durability, where would you find this amazing all-in-one package?
Best Bluetooth Turntables Buying Guide
Here is the special buying guide. By reading through so far, you may have gotten the idea of identifying the Best Bluetooth turntable. There are several record players in the market which confuses people and they can't understand which is the right one. After reading this buying guide, you'll get an obvious idea of how to get the best record player.
Considering the following features saves you from doing time-consuming research on products. Also, it'll save you time and money too. Just observe these things:
Sound Quality
Music and sound have an amazing, soulful relation. Observe the sound quality of the record player when deciding to go for the specific one. All turntables on the list are offering top-end sound quality. The lifelike and clear sound of music will let you feel the depth of every beat and tune. That you may reach in an imaginary world of music.
Noise Cancellation
You may have noticed, in some turntables, the clashing sound of the speaker. It is annoying to listen to this clashing sound every two minutes while enjoying the music. So, the perfect record player must have an incredible system to cancel out all the noise. Just like Audio-Technica AT-LP60XBT-BK Wireless Belt-Drive Turntable. It has an upgraded tonearm with a steel-aluminum platter to cancel out all the disturbing noise.
Budget
Doesn't matter how prominent the features are, you can't cross your budget line. Considering the budget is a crucial step, whether you're buying a record player or something else. All vinyl recorders in this article have all the best possible features at a super reasonable price. No need to spend an extra amount of money to buy the Best Bluetooth turntable.
Let's Answers Some FAQs To Help Your Concerns
What is a Bluetooth turntable?
A Bluetooth turntable is the fresh face of record players. It can connect with Bluetooth-enabled speakers, mobile and laptops with no need for cables.
Are Bluetooth turntables any good?
Bluetooth doesn't affect the quality of sound. But, if you're a classic passionate lover of listening to music on a traditional record player. Then you won't like the Bluetooth turntables.
Can I make my turntable Bluetooth?
Yes, you can. For the transmission, you'll require a phono preamp and Bluetooth transmitter. If your turntables have already built-in preamps, then just connect the transmitter to your turntable's RCA output.
Do I need a preamp for my turntable?
A phono preamp is essential to make your vinyl record function decently. Buy the sets of cables ( RCA cables) and connect them to your audio system em. You'll have the perfect preamp for your turntable.
What is the best affordable Bluetooth turntable?
Audio-Technica, Sony, and Crosley are some renowned brands to have affordable turntables with prominent features. The durability of their turntables is also great.
Conclusion
In the end, we just want to say thank you for giving this article your valuable read. Hope all the information we've got for you will help you in deciding the stable record player. All 9 Best Bluetooth turntables in this list are upgraded and packed with innovative features. That will let you swim in the ocean of classic music. Choose the right one between the 9 record players after properly observing its features and longevity.
Best of luck with the buying experience. We hope that it'll be wonderful and you would surely give thanks to us for recommending the perfect one.