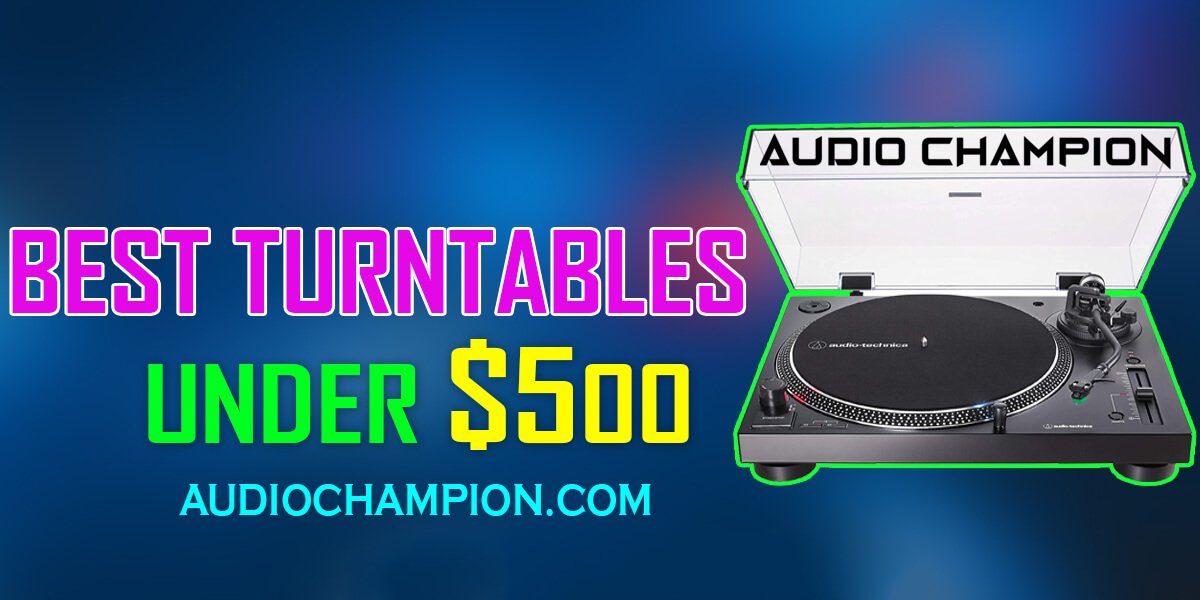 If you consider yourself an audiophile and are interested in all things music, chances are you are familiar with the concept of a turntable. These first rose to fame in the early 50s and 60s but have recently made a comeback due to advancements in audio technology.
Whether you are a DJ who wants to create an original sound or just a music aficionado who wants to listen to their music in style, a turntable might be exactly what you are looking for.
From better sound production to far more advanced methods of storing and creating music, turntables, or record players as they were once known can be a vital investment for anyone trying to make it big in the music industry. However, since these are still only catching on to the music scene, they might not be the easiest product to buy. That's where we come in!
List of Best Turntables Under 500
If you are unsure about a good option, we recommend that you take a look at the Audio-Technica Professional DJ Turntable which is fitted with a bunch of incredible features and has a perfectly balanced S-shaped tonearm. If that's not enough for you, keep reading on, and don't miss out on our additional buying guide towards the end.
The first product we have for the best turntables under 500 is the Rega – Planar Turntable and this is an exemplary device that has been fitted with some amazing features that would put any higher priced turntable to shame.
Not only is this device fitted with a new RB110 tonearm but this arm also has been manufactured to contain a new design of zero play bearings. The cool thing about these is that they provide users with an ultra-low friction performance.
If you thought that models in this price range just didn't have the same performance as higher-priced items then you're in for a surprise because the Planar 1 comes with a low noise motor that works at 24v. This means less vibration transfer and thus you get a stable and carefully curated audio experience.
You also get to benefit from the updated brass main bearing, which ensures that you get an improved fit and have the ability to minimize the pressure that might be produced on the bearing. The one drawback of most of these features is that they are still not patented properly.
However, that isn't a complete letdown, and thanks to the inclusion of their innovative 23mm, phenolic platter you can ensure that the speed will be stable. Finally, you have a glossy thermoset and laminated plinth that looks as good as it feels. It has ergonomic features that ensure that you are investing in one of the best turntables under 500.
Pros
Phenolic platter.
Laminated plinth.
Brass main bearing.
Low noise motor.
Zero play bearings.
Ultra-low friction.
Black and white gloss.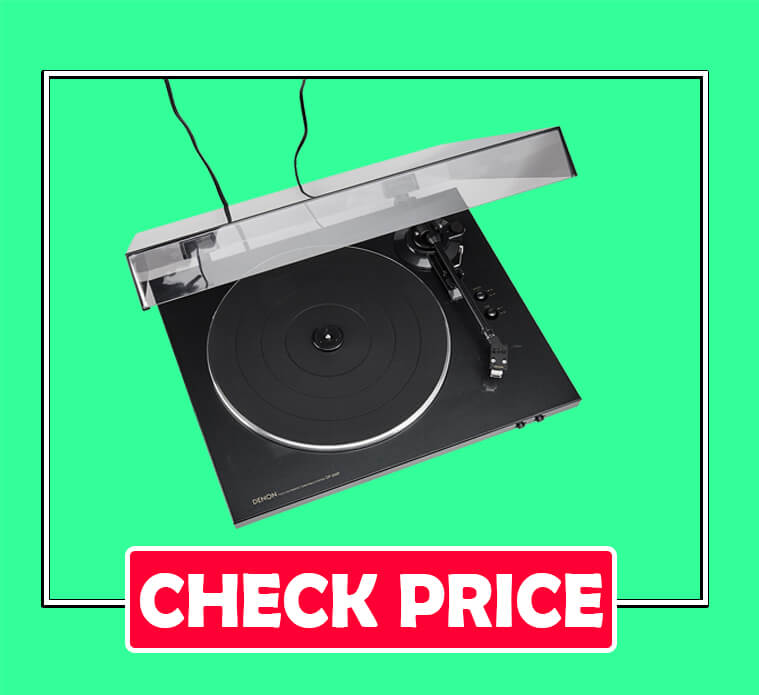 Our next contender for the best turntables under 500, is the Denon DP-300F Analog Turntable and this is an excellent pick for users who are looking for an overall excellent device that offers fewer vibrations and is heavier to support this. With an updated tonearm, users get to replace their cartridges with ease since the headshell is removable. This makes the cartridge easy to access.
Another feature which we are pleased with is the automatic startup feature that lets the user start the device with the push of a button. If you are done using the product you will notice that the tonearm goes back to its original position without scratching against any other component. The entire product has been manufactured out of die-cast aluminum which makes it the right size and reduces vibrations.
Along with the auto function, there is also an option for the user to lift the stylus manually so that they can control when and if they want to start playing or turn it off. This is also an easier way to skip a song.
Not only does this device work with a belt drive system but it is also powered via a DC servo motor and this two combined grant the best rotation speeds. There is also a built-in phono equalizer which builds a connection between the amp that you can attach and the player itself. Finally, this is a product that comes with an MM cartridge for the best experience with your analog record collection.
Pros
Belt Drive system.
MM cartridge.
Built-in phono equalizer.
DC servo motor.
Manual lifter mechanism.
Die-cast aluminum.
Automatic startup.
Removable headshell.
Cons
The cartridge might not be as good.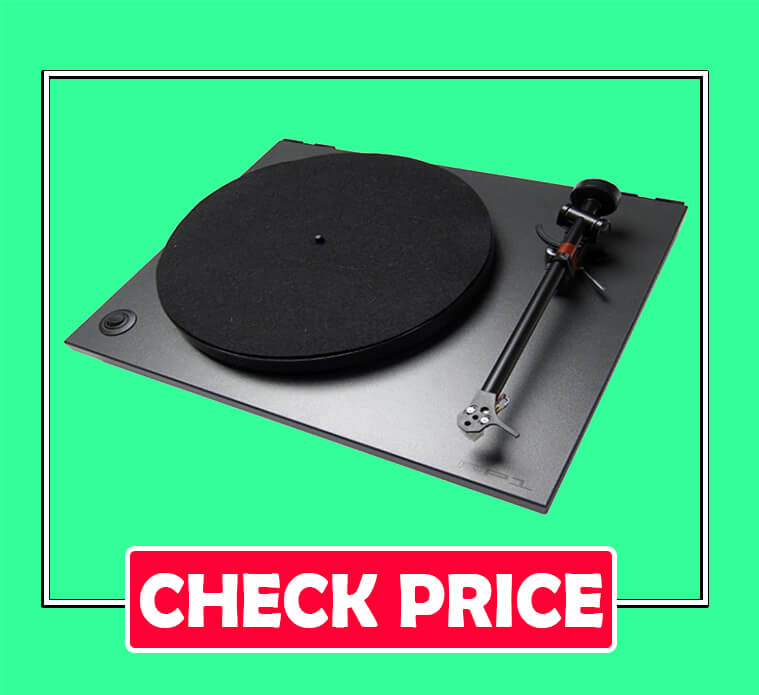 The Rega – RP1 Turntable is up next and this comes with complete ease of use, a dependable design, and of course, is made using only the best quality materials. This is one of the most important features in fact as the Rega has saved costs by concentrating all their efforts on the materials used to build this turntable.
The RP1 is a great option for the best turntable under 500 because it includes a manual speed change instead of a programmed component. This process ensures that there is less pressure on the drive belt and there are fewer speed irregularities. This ensures your product lasts longer and you get a real return on your investment.
The inclusion of the Rega Carbon moving magnet cartridge ensures that you get the best sound performance. While it is true that this product might not be the best choice for a stylish or modern looking product, it has a minimalist design which has a certain grace of its own.
Rega has found the best way to ensure that their users can spend their hard-earned money on an affordable product which doesn't compromise on features or quality, that is evident when you look at the addition of features such as a low vibration motor, an updated RB101 tonearm, a phenolic resin flywheel effect platter and of course their precision main bearing.
Pros
Manual speed change.
High-quality parts.
Carbon magnet cartridge.
Hand-assembled RB101 tonearm.
Precision main bearing.
Phenolic resin flywheel effect platter.
Low vibration motor.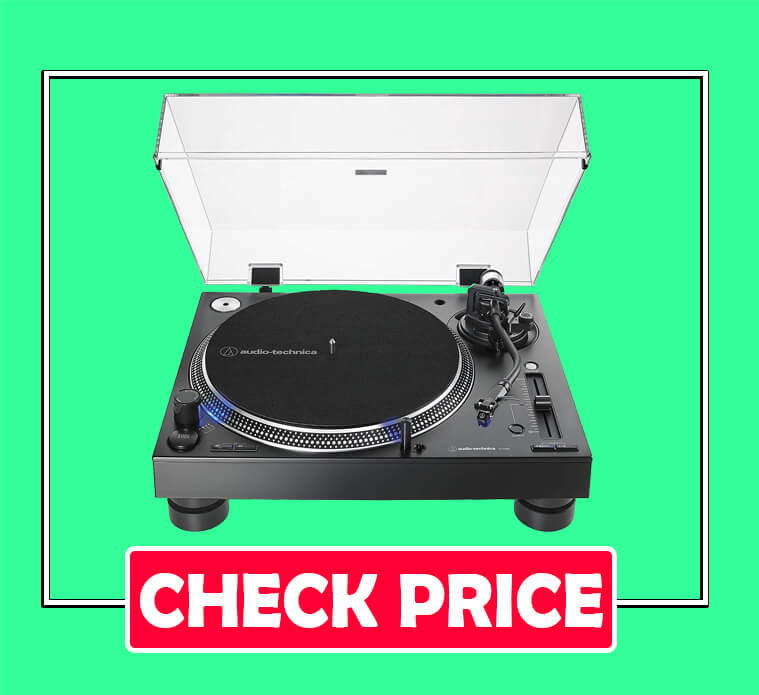 Up next, for the best turntable under 500, we have the Audio-Technica AT-LP140XP-BK Turntable and the first thing you notice about this product is the incredible amount of features that it comes with. All of that within the 500 dollar mark? Now, that's value for money!
This turntable is powered by a direct-drive motor which packs a powerful punch and has a lot of torque abilities. There is also a die-cast aluminum platter with good enough dampening which ensures stable performance on most surfaces. It also comes fitted with a unique s-shaped tonearm which has adjustable anti-skate control, height adjustment, and an adjustable counterweight.
Of course, that's not all! There are more amazing features in this device which include a removable dust cover to protect the device, a pitch change slider, a start/stop button, a selectable pitch lock which is highly accurate, and of course a stroboscopic platter.
Finally, there is also a detachable dual RCA output cable with this device that connects all your components via a phono input. You can get this turntable in both black or silver models.
Pros
Direct-drive motor.
Die-cast aluminum platter.
S-shaped tonearm.
Adjustable counterweight.
Available in black and white.
Adjustable dynamic anti-skate control.
Detachable dual RCA output cable.
Start/stop button.
Selectable pitch lock.
Pitch change slider control.
Stroboscopic platter.
Dust cover.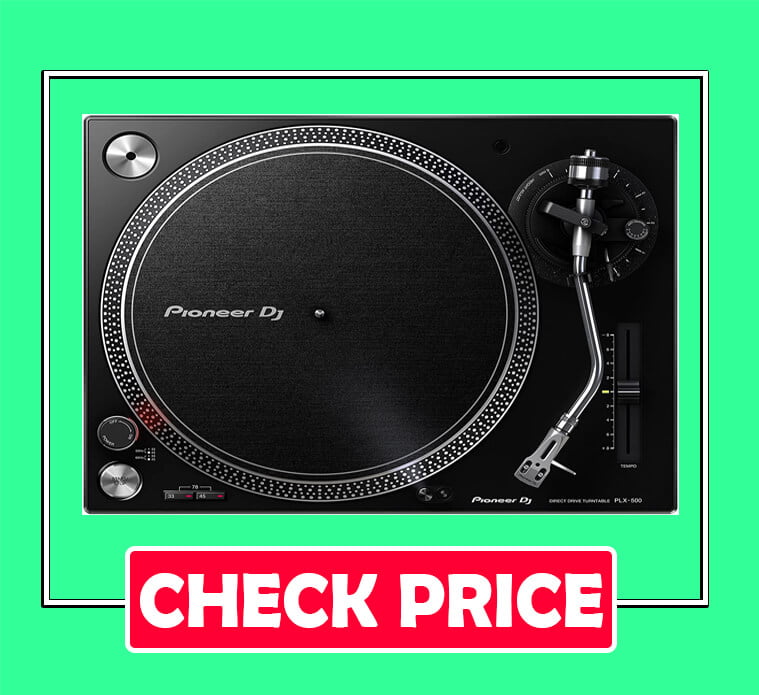 For the next product, the Pioneer PLX-500-K Turntable is one of the best turntables under 500 because it comes with practically all of the features one would want from a good quality turntable. There is even a feature that allows you to place your record covers on full display while the records are playing.
This is a product that has been built to be completely durable and has amazing features including excellent vibration damping a USB connection for digital recordings, precise audio playback, and you also get to use their free rekordbox software.
Like some of its earlier models, this turntable has been manufactured to ensure that the audio quality is its top priority. It achieves this by ensuring that it uses a shorter audio routing and this results in less distortion so that you get the most out of your sound experience. The way the phone and line output is added also makes it so that users won't even feel the need for a separate amplifier.
Pros
Short audio routing.
Reduced distortion.
Excellent vibration damping.
USB connection.
Precise audio playback.
Free rekordbox software.
Sleeve stand dust cover.
Compatible with rekordbox DVS Plus Pack.
6. Audio-Technica AT-LP5 – Best Direct-Drive Turntable Under 500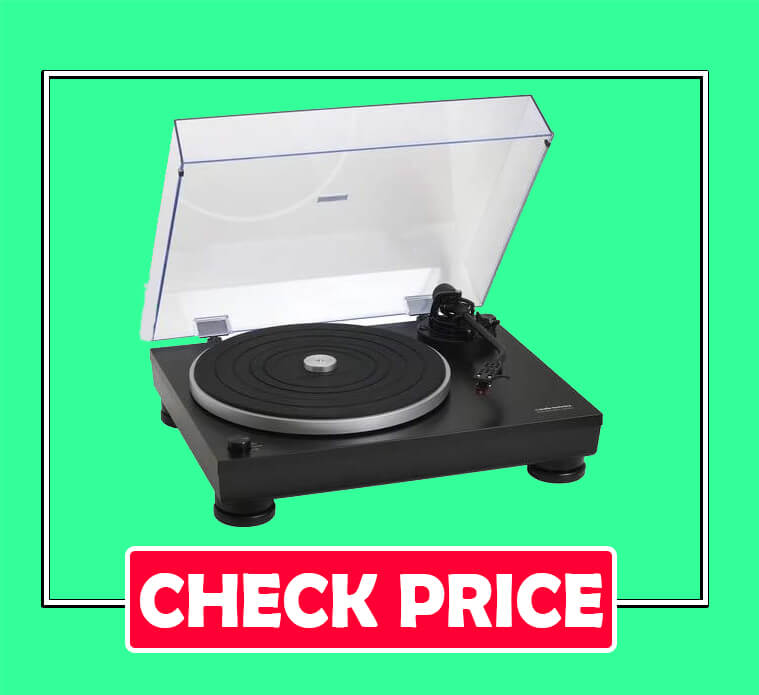 As we mentioned earlier, the Audio-Technica AT-LP5 Direct-Drive Turntable is fitted with an array of excellent features. One of the most impressive features in this, however, is the amazing and stylish design that this device will provide for the user. It will look amazing in any home and won't stick out like a sore spot as the muted tones match any interior.
It is powered by a direct-drive engine that has dual RPM performance and there is the addition of a thick damping mat which reduces vibrations. Other than this, you get a cast aluminum platter and all of this is housed within a device which ensures you get the least amount of chassis resonance.
The fact that it doesn't have any real need for a phono input is all due to the inclusion of its built-in pre-amplifier and that's a reason why this is one of the best turntables under 500. Finally, some of the other features that you will get with this device are a hydraulic life, a J-shaped tonearm, an adjustable counterweight, and complete anti-skate control. This is the best turntable under 500 with preamp which can deliver high end performance.
Pros
Direct-drive engine.
Built-in pre-amplifier.
Cast aluminum platter.
Thick damping mat.
Stylish.
J-shaped tonearm with a hydraulic lift.
Anti-skate control.
Adjustable counterweight.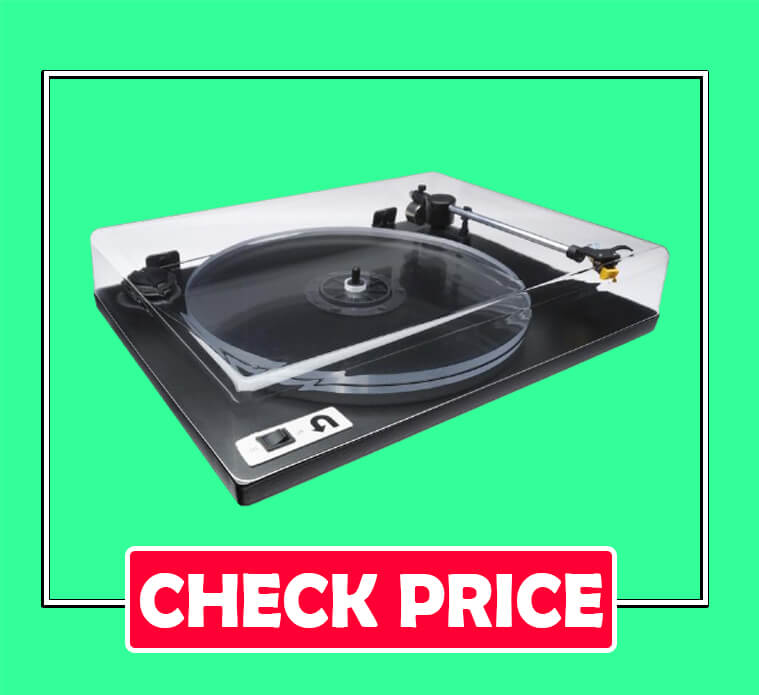 Next, we are looking at the U-Turn Audio Turntable which comes fitted with an Ortofon OM5E cartridge that makes your listening experience an enhanced one regardless of what kind of music is being listened to. You also get all of the speed and stability that you need for the best audio performance.
The reason why it is one of the best turntables under 500 is mostly thanks to its OA2 gimbal arm which comes with precision bearings that get you the best movement without friction. The stylus moves freely and this reduces the amount of distortion that you might experience. These are handmade and also have both an adjustable counterweight and an anti-skate and an adjustable counterweight.
The platter is made with acrylic and ensures you have the best speed consistency. This is achieved because the product has low-resonance properties. Finally, thanks to the addition of dual and external belt drive, users get to experience sound which easily separates the low-noise motor so that only a reduced amount of vibration gets to the platter.
Pros
Ortofon OM5E cartridge.
OA2 gimbal arm.
Acrylic platter.
Preset anti-skate.
Adjustable counterweight.
Dual speeds.
Low-noise motor.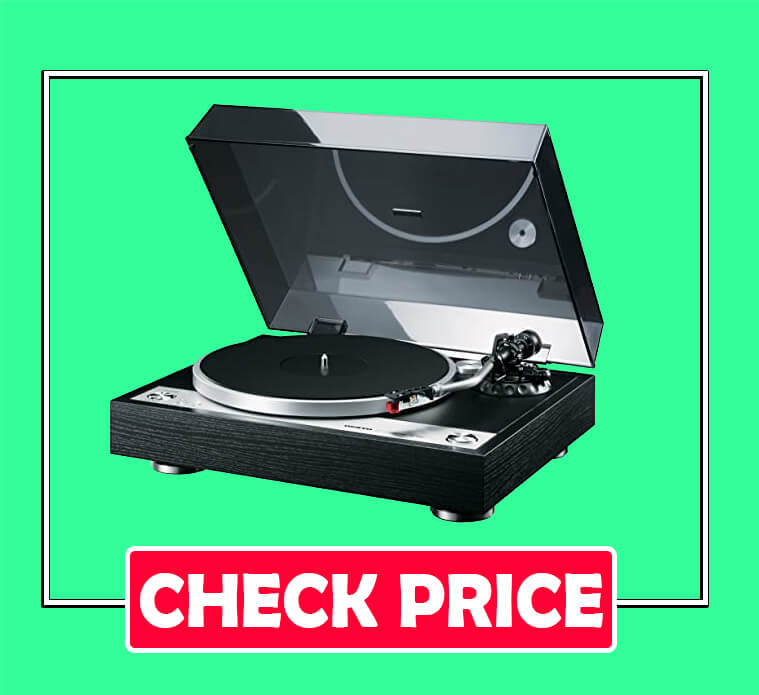 Our next contender is the Onkyo Direct-Drive Turntable and this is the perfect product if you are looking for a truly analog-based sound experience. This is achieved with a low-torque direct-drive motor which can reduce the sound frequency and get you a quieter operation.
The most notable thing about this device is that this is a durable and solid device and it has been constructed with a vibration-damping MDF. The die-cast aluminum platter ensures that you get smooth and stable rotation.
Thanks to the addition of the rubber slip mat you can be sure the device will stay stable and won't slip. There is also a low-noise motor and thanks to the deck having the perfect, you get less vibration and clearer sounds. Finally, the aluminum tonearm also has a detachable headshell with an adjustable counterweight.
Pros
Direct-drive motor.
Quiet operation.
Vibration-damping MDF.
Die-cast aluminum platter.
Aluminum tonearm.
Detachable headshell.
Low-noise motor.
Rubber slip-mat.
Adjustable counterweight.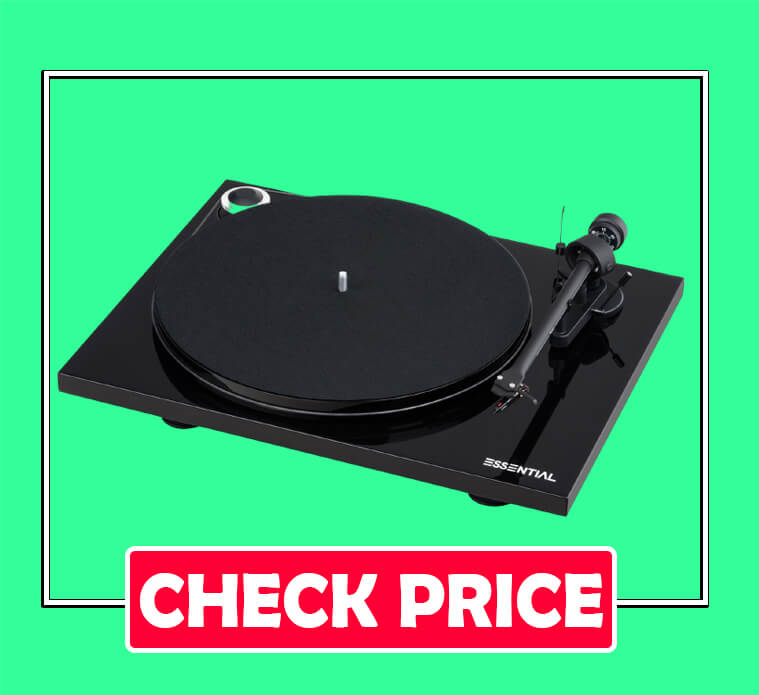 The best thing about the Pro-Ject Essential III Turntable is that it comes with a fairly simple setup which is complemented by the inclusion of all the necessary components such as a cartridge and tonearm. To reduce any chances of plinth vibration, the device also comes with a specialized MDF platter.
The integrated DC-powered motor reduces the amount of motor vibration and ensures speed stability. Its drive pulley is made from diamond-cut aluminum along with a platter bearing with low-tolerance as well.
Other amazing features include RCA interconnect jacks, a dust cover, and of course a 1.0-meter Connect-It E stereo RCA cable as well. This device is available in a red, black, and white gloss finish.
Pros
Simple setup.
Quiet DC-powered motor.
Diamond cut aluminum drive pulley.
Low tolerance platter.
Red, black and white options.
Meter Connect-It E stereo RCA cable.
Dust cover.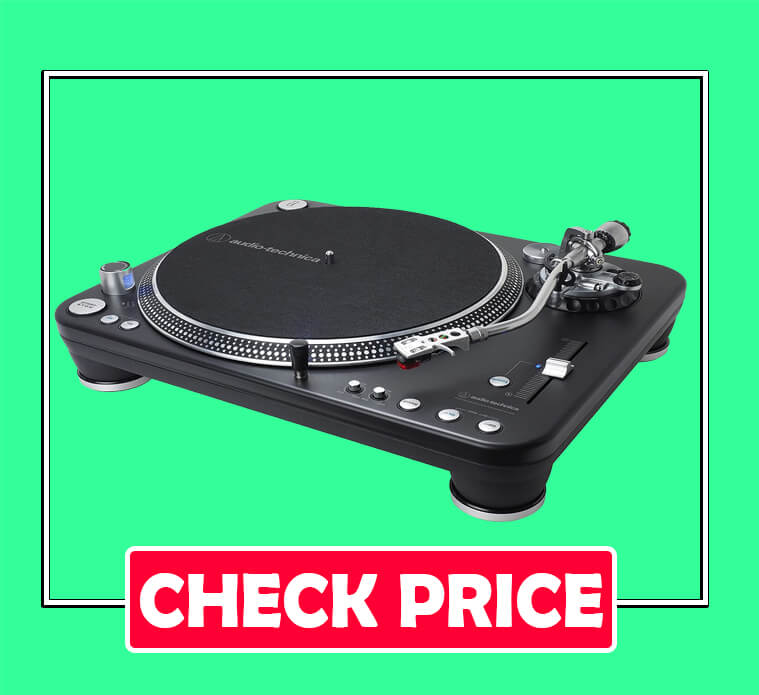 Finally, to end our review of the best turntables under 500, the last product we have for you is the Audio-Technica ATLP1240USBXP Professional DJ Turntable which has a ton of amazing features which is pretty impressive for a device under 500.
Not only does the matte-black and silver design make this a very sleek and stylish product to purchase, but it also comes with a switchable phono pre-amp that is built-in and this ensures that it is compatible with quite a few different receivers or powered speakers.
Along with the added benefit of a USB output, this turntable also has an S-shaped tonearm which also has an adjustable counterweight. While it does come with an excellent quality AT-HS1 universal headshell, the cartridge in this isn't the best. However, with the addition of its DJ phono cartridge, you get an accurate amount of tracking and high fidelity.
Finally, other notable features include a removable stylus light, a damped cast-aluminum platter that comes fitted with stroboscopic speed markings, dual start and stop options, and an illuminated speed indicator among more!
Pros
Matte-black and silver design.
AT-HS1 universal headshell.
AT-XP5 DJ phono cartridge.
USB output.
Built-in switchable phono pre-amp.
Cast-aluminum platter.
Stroboscopic speed markings.
Illuminated speed indicator.
Adjustable pitch control.
Dual start/stop buttons.
The removable stylus target light.
Cons
The cartridge might have to be changed.
In conclusion, we have explained the qualities and drawbacks of our top 10 picks for the best turntables under 500 but the choice rests on you! In the end, we hope this has been a detailed and informative article which will allow you to make the best decision for your specific needs.
Best Vintage Turntables Under 500 Buying Guide
Now that we have reached the end of this review on the best turntables under 500, we are adding additional insight into the basics of buying turntables. With all of these incredible products right within your grasp, you might be ready to make the perfect choice for your needs. However, we still suggest that you review the buying guide ahead as it will not only help you narrow down your search more but will also ensure that you make the best investment with your money.
Indeed, a turntable is mostly the most important element in your overall unit because that is what will enable you to play existing sounds or create new ones. Everything else is just an add-on to your original turntable. Whether it be speakers, your amplifier, or a new cartridge.
To start with, first, we are going to take a look at the basic factors that will determine whether or not you are getting a good device and then we will move onto answering the most frequently asked questions.
First, let's look at the most important factors to consider before buying a turntable under 500:
Cartridge
One of the most basic and important components of any turntable has to be its cartridge. Now, while most moderately priced ones will come with cartridge pre-installed, it might be something you are inclined to add on or change yourself later on if you are not satisfied with the original.
A cartridge is used to keep track of the production of your sound. Keep in mind that these products can be quite expensive as they have a stylus that might be made from expensive materials for better sound production. However, as with most other components, you can also find budget-friendly options since the review is about the best turntables under 500.
Amplifier:
An amplifier can be another really important feature in any turntable set. However, the need for one is practically dependent on whether or not you have active or passive speakers. In case you have attached speakers that are active on your system then these will not require you to purchase an amp since they come with their built-in. on the contrary, passive speakers will require separate amplifiers as they don't come with their own.
Whether you should choose an active or a passive speaker also depends on your need as the user. You may opt for either since both have subsequent advantages. However, a speaker will only perform as well as the system it is attached to can allow. The decision to add in an amplifier might boil down to the limitations of your turntable itself.
Compactness:
It is vital that you begin your hunt for the best turntable for yourself by first analyzing your capacity, or rather how much space you have in your home. There will be no benefit of buying a good decent priced turntable under the range of 500 unless you are sure it will fit in your home.
For most turntables, you will need to place them on flat surfaces so vibrations are reduced and the sound is as stable as the device. So space has to be enough and also sturdy to hold it because turntables have to be heavier for support. If you don't have a surface that is sturdy enough, this risks your investment along with the important CD collection you may be utilizing.
Cost and Components:
The kind of components you need to add to your turntable is also an important consideration because if you are just a casual user within the home, just your turntable or the occasional speaker might be enough. However, if you wish to use this device to jumpstart your DJing career then you might have to make more investments into amps and other accessories such as dust covers.
This is precisely why it is crucial to be in touch with how much you can spend on your entire system and what range of devices you can afford. While it is true that expensive doesn't always mean better, it is much wiser to pick what components need to have more money spent on them versus those that can be bought in a budget. Always pick quality over the most expensive or premium device.
Damping:
Finally, one last feature to consider is your turntable's damping ability. This of course means how well the turntable can dampen or control excess vibrations and reverberations that might affect the overall audio quality. This system might be either external or internal, but usually, it is controlled by another component of the turntable such as the motor.
To make your choice slightly easier, it is important to add that if you are looking for the most foolproof product with the most dampening, then you might want to invest in a belt-driven turntable since these have higher fidelity and have a quieter operation. That doesn't mean that you shouldn't ever consider direct-drive versions either.
Also Read: Top 10 Best Audiophile Turntables in 2022
Frequently Asked Questions
Now we are moving onto the FAQs:
What is the best vintage turntable under 500?
Of course one might ask if there are so many advanced products available to us now, why would we ever consider investing in a vintage turntable at all? The answer to this is of course because there is no comparison with the authentic feel and sound quality of a retro record player.
Among the many exemplary vintage turntables under 500, our pick is the Acoustic Research XA/XB. First released in the 1960s, these turntables have stood the test of time with their amazing features. Even back then, they were an advanced form of engineering and had amazing sound outputs due to excellent technology.
One of the main reasons why it is a great option for a vintage turntable is because of the way it looks. Not only is it sturdy and durable but it also looks the part. A great addition to your home as they remind the user of a time gone by. The only real drawback is that the tonearm might need to be replaced as it is not the best.
What is the best turntable ever made?
While there are many excellent options for this, our pick for the best turntable ever made is the Thorens TD 190-2. This is of course a relatively new product and has been manufactured with a completely automatic design. This is one of the more traditional products when it comes to the way it is used to play music.
It is manual in operation, which means that you have to pick up the arm yourself and then place the stylus onto the groove so that it can play. Once you are done listening, you once again have to pick up the stylus arm and let it rest at its spot. Of course, in comparison to newer automatic models, it might seem like more work, but this is a product meant for people who want the authentic retro experience while also getting excellent audio quality.
Is Crosley a good turntable?
This has been a much-contested argument for quite some time but the verdict is out! Crosley turntables are not the best quality devices and they might just damage your favorite CDs or records as well. However, if you look at what the product has been used for then you will see that in reality, this is a good basic product and it does exactly what it promises.
It provides users with a visually appealing and classic looking product which is more about the visual aspect than about the sound quality. There is no doubt that this is meant to be a consumer brand for those who love the vintage and retro style and want a decorative piece which is why you might not trust your vinyl records to be played on this.
Instead most opt for playback of existing audio. Of course, if you are looking for a product which is all about sound quality then you should seriously consider another option because there are tons of them out there that offer much better performance than the Crosley.
One of the main issues that users have with this turntable is that it doesn't last as long and is also potentially dangerous for records. That's mostly true unfortunately because its quality is not one of its best features. However don't let the countless bad review online deter you, if you want a user-friendly and colorful record player for casual use, then this is the best investment you will ever make.
Of course, the benefit of this being so cheaply made is that Crosley turntables are also super affordable. Instead of better quality platters, these are made with ceramic cartridges used by and they are also heavier which may be the cause of scratches.