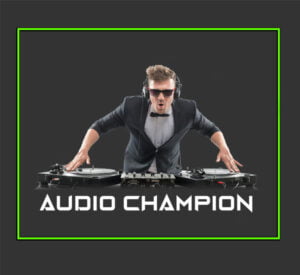 Music lovers don't mind if they have to spend some money on the turntable to get high-quality audio. Spending a fair amount of money will give you a professional and reliable turntable in return to enjoy fidelity and quality audio.
When you have a long list of turntables, the decision becomes difficult and assessment too. Which turntable is good in quality and features is tough to know when you are in the market as it wastes your time, energy and can make you panic. Therefore picking one model becomes strenuous. For your convenience, in this article, we have collected pre-eminent turntables for $1000 for you.
Turntables don't produce the sound until you don't attach speakers, amplifiers, or subwoofers. Therefore, you need to consider some factors while you buy a turntable. It should be reliable, accurate, durable, and even aesthetic in style, though. You can get high-quality in 1000 dollars, but you need to focus on the turntable features that you are going to buy or want to buy.
All of our turntables are tested, which assures high-end features. Among our list of top-notch turntables, our flagship product is Pioneer DJ Direct Drive DJ Turntable. It is a heavy-mass, die-cast chassis that stops resonance and vibrations. Its vibration-damping material, rubber insulated, tine arm, and 8mm-thick resin makes it the best turntables for under 1000 dollars.
Best Turntables Under 1000 of 2022 – Top 10 Picks
Before proceeding with the turntables' detailed review, Let's undergo our experiment table to determine each turntable's specification and characteristics.
Let's begin the ride and have fun with the joyful and useful features of our impressive list of turntables!
1. Pioneer DJ – Direct Drive DJ Turntable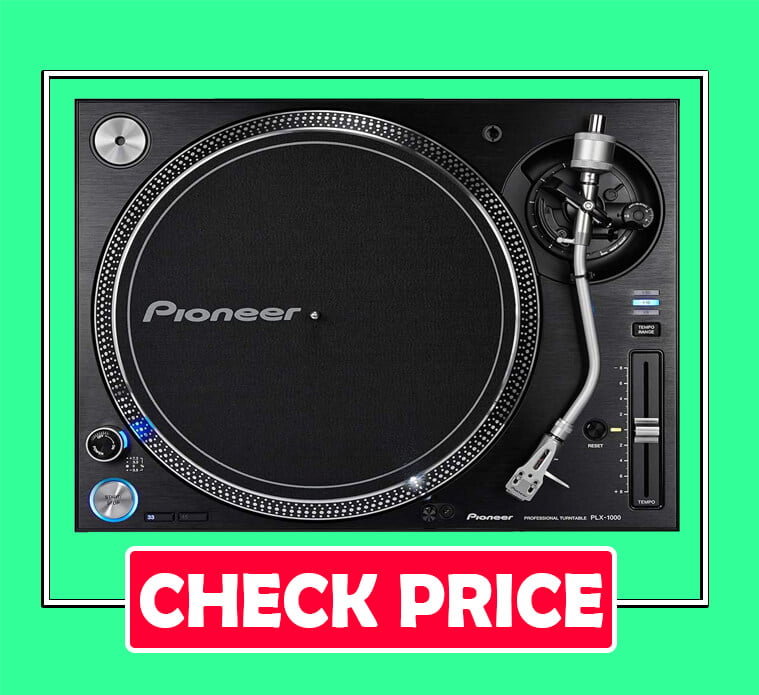 Pioneer DJ Direct Drive DJ Turntable ensures stable rotation and exceptional control. This turntable reaches 33⅓ rpm in only 0.3 seconds, and it happens due to a starting torque of 4.5kg/cm.
Key Features:
Pioneer DJ turntable contains interchangeable power, audio cables, and pro-grade gold-plated RCA jacks that ensure low impedance and exceptional sound quality. This turntable height is 159 mm, and its depth is 353mm; this lightweight and height are perfect for handling and operating turntables.
This turntable is a full package that comes with all the necessary accessories. When you open the box, you will find PLX-1000, Power cord, Audio cable, Ground wire, Adapter for EP record, Turntable sheet, Slipmat, and Dust cover.
The high-torque direct drive makes the rotation stable and keeps exceptional control, making the sound quality unique and reduces impedance.
With multi-tempo control feature of this turntable, you can pick up and slow down the tracks to ±8%, ±16%, and ±50%, while a simple reset button instantly returns to ±0%.
Pros
The manual is excellent and obvious.
The packaging of this turntable is fantastic.
Verdict:
Pioneer DJ turntable is absolutely a fantastic choice to play the hi-fi audio tracks. The upgrades and up-to-date components of this turntable give a high-quality and joyful sound. You can now perform all your chores happily because this turntable is a very competent and excellent turntable with impressive and stunning sound. Must try it!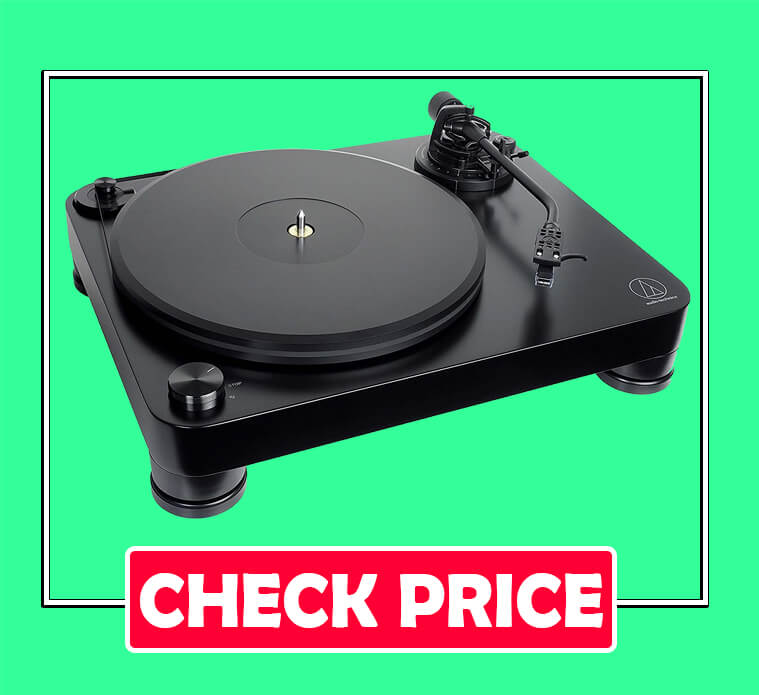 Audio-Technica is a brand that manufactures top-notch turntables for under 1000 dollars. The Audio-Technica AT-LP7 is designed with a significant focus on sound; that's why it gives more but at a significantly lower price.
Key Features:
AT-LP7 is an exceptional turntable that generates sound to a very high standard, and it comes with RCA cables, a 45 RPM adapter to deliver precise and high-frequency sound. Moreover, with a dust cover, turntables stay safe from dust and ensure the turntable's safety and long-lasting life span.
The speed sensor keeps the rotation steady and further assists in reproducing clear and loud music. You can play any of your favorite tracks on this turntable; furthermore, its pleasant sound makes you entertained by performing your daily domestic tasks.
This turntable's platter keeps the sound anti-resonance and makes the sound aesthetic by keeping it buzz-free. AT-LP7 is entirely manual, so you have to change the CD's side on your own; therefore, you need to know when the albums are about to finish.
Pros
Reliable and durable.
Well made and stable platter.
Removable dust cover.
Verdict:
AT-LP7 is a reliable product that comes with exceptional components to give you incredibly well sound so that you could enjoy your day at the best. The market is full of expensive yet less-efficient turntables; therefore, this superior audiophile turntable is the best choice to give an excellent start to your day and for a pleasant ending at night.
3. Stanton ST.150 MKII – Professional Direct Drive DJ Turntable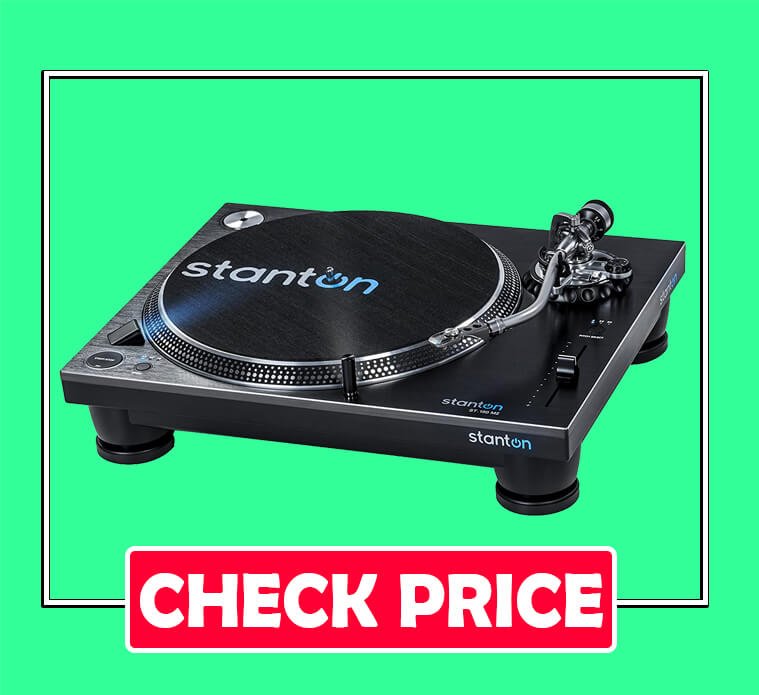 Stanton is considered the best turntable under 1000 because of its efficiency, performance, and design, leading to all turntables. This incredible turntable meets professional DJs' demands, and robust construction delivers ultra-clear signal quality to the listeners.
Key Features:
ST.150 is an advanced turntable that can also be used for professional tasks due to its durability and reliability. This turntable's ultra-clear signal quality minimizes resonance, and its robust construction gives strength to this elegant turntable.
This turntable's top frame is made up of aluminum, and its motor's weight delivers 4.5kg torque. This high torque increases the turntable's efficiency and gives superb sound quality to enjoy.
This turntable contains removable target light that shines along the record's grooves and allows you to see the needle position. This targeted light is conducive for DJs because at many places availability of light is very dim. Furthermore, we can also hide this target light by pressing on it.
This updated turntable includes a Slipmat, 45 adapters, a right-angled cable, and the full version of Deckadance DVS software, not for beginners. Still, if you want to explore beyond the usual Traktor / Serato DJ / Virtual DJ trio, it perfectly works.
Pros
Heavy-duty aluminum construction.
Very low resonance base 22.5 lbs/ 10.2 kg.
Slipmat and 45 adapter.
Verdict:
Stanton ST.150 is a heavy-duty turntable that is a feast for the eye and delivers a melodic sound for the ears. It is designed with a lot of features at a reasonable price that is worth buying. If you want to buy a turntable for your professional work and daily fun, give a chance to Stanton ST.150 as it is the best turntable for under 1000 dollars.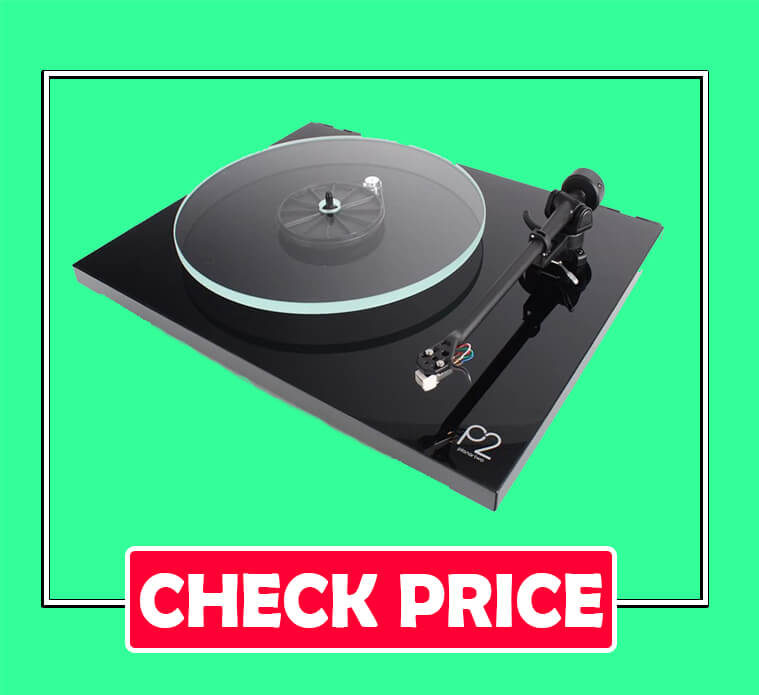 If you are looking for a turntable with perfect spinning records at home and exceptional build quality, the Rega Planar 2 is excellent for you.
Key Features:
Though the Rega brand is not as well-made as other mentioned turntables, its features are still very inspiring and useful. You won't ever feel regret after buying it as its features and quality is awe-inspiring.
To reduce buzz and resonance, stabilizing feet are installed in this turntable. These feet stop the vibration, offer excellent sound quality, trustworthy efficiency, and reliable material.
A 24-volt motor is quiet that produces minimal noise, and contains automatic cooling functionality. The sturdiness and durability are a signature of the Rega brand that delivers your favorite track's remarkable sound. Its durability makes it life-lasting, and glossy acrylic keeps it sturdy.
Dust cover protects the turntable from getting dirty and safe it from scratches. Moreover, 11mm self-securing brass bearing makes it a fantastic product. This turntable makes your record float with the magnet and makes you feel the warmness of sound.
Pros
A 24-volt low-noise motor.
High-gloss acrylic laminate plinth.
11mm self-securing brass bearing.
Cons
The ground wire is missing.
Verdict:
This turntable is an excellent and unique product that gives your style a new swag and new fun to your audio tracks. Give a chance to this affordable and adorable turntable to add more entertainment to your long day.
5. Denon DJ VL12 PRIME | Professional Turntable under 1000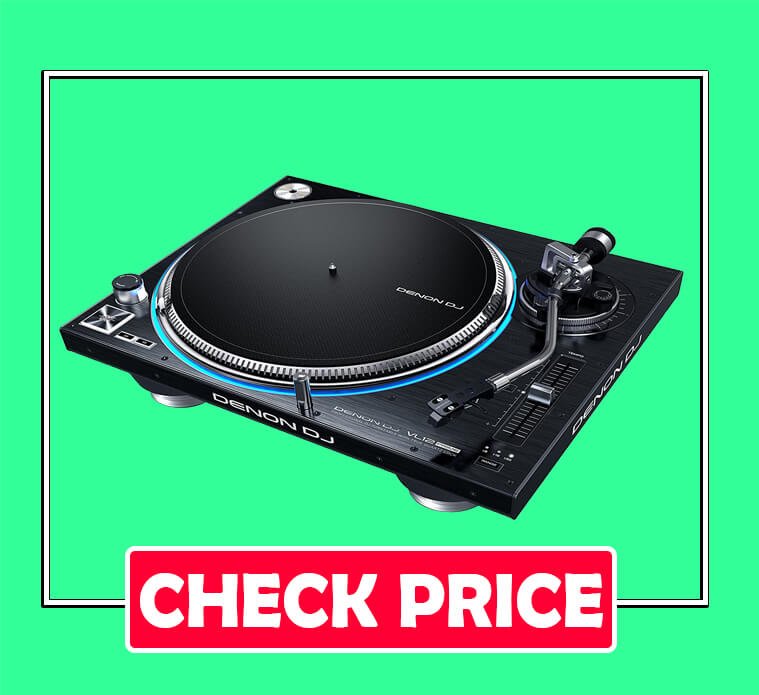 Denon Dj VL12 Prime is a turntable made of today's technology that fulfills today's needs and even perfect for future needs. This turntable sets the new bar position, which can control any bass-heavy and loud environment.
Key Features:
VL12 is a very smart turntable that contains exceptional features, and there is no classic or control vinyl-based gig that cannot be handled by DJ12 Prime. This genuine quartz locked turntable offers you the most exhilarating 'hands-on' performance that you have ever imagined.
Isolation feet of this turntable eliminates unwanted vibration and feedback of this turntable, and as a result, you get the fantastic and perfect sound. The built-in RGB lighting illuminates the platter's edge, 2-speed operation 331/3, brightness controls and color selection, and 45 RPM.
It is an innovative 'easy grip/brake chamfered platter that is the highest-in-industry 5kgf/cm torque on "High" setting, which gives excellent speed to the motor and makes the turntable work perfectly.
Pros
Built-in RGB.
Adjustable pitch range.
Cons
Lid or dust cover is not present.
Verdict:
DJVL12 is a turntable that is very fantastic, smart, and unique; furthermore, it is a combination of durability and accuracy. It gives you great sound at a low price. Moreover, it's built RGB lighting brightens up the platter's edge and delivers color selection and brightness controls. Therefore, this product is worth buying because it gives you more than its price.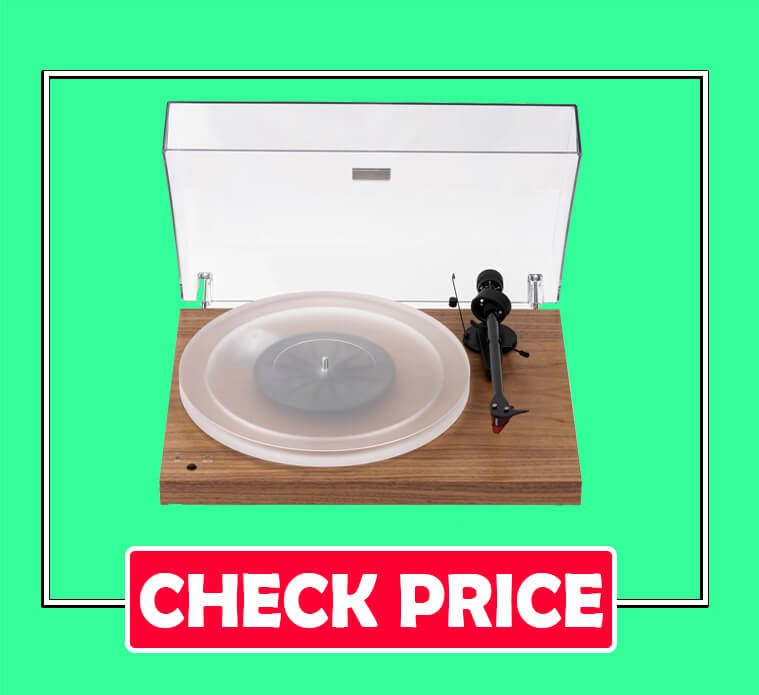 Debut Carbon Esprit SB is a turntable designed to be played at 78RPM, but most play at 33 and 45RPM but don't have the option to switch to 78. Above all, it is a very well-built product for audiophiles' sticky arm release casual listeners to have joy whenever they want.
Key Features:
This Pro-Ject is designed to keep the record at a continuous speed, so you don't have to worry about flutter, vibration, or noise. This turntable comes with a quality carbon tone-arm, and it is designed to be anti-resonance so that the platter doesn't affect the sound.
The cartridge is an Ortofon 2M, an excellent option for producing a pleasant sound; moreover, the acrylic platter is high quality, weighty and well-made.
This superior turntable performs an excellent job with the Debut Carbon Esprit SB (DC), and it is one of the best 3-speed turntables in our top-rated turntables category. This turntable's sufficient arm length is 218.5mm, while the effective arm mass is 6.0 g.
Pros
6″ carbon tonearm.
Pro-Ject Speed Box Built-in.
Plays 33, 45 and 78RPM.
Verdict:
Undoubtedly, this turntable is made up of very durable material that ensures its efficiency and lasting life. Give it home as it is an outstanding product which will give you more than your expectation.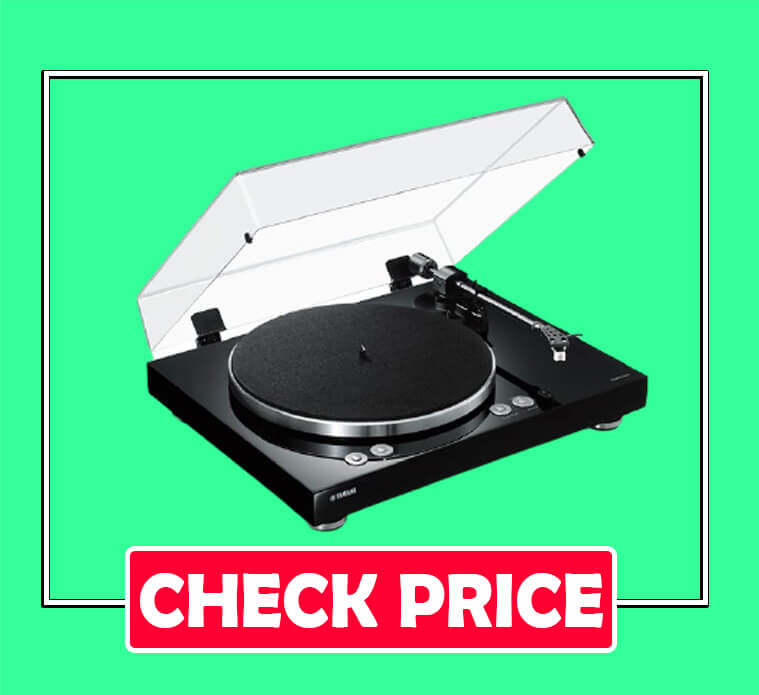 MusicCast VINYL is a turntable that contains a lot of features for its customers. It not only entertains users by its features but also by its design and style.
Key Features:
You can create a stereo system with MusicCast wireless speakers to place turntables anywhere you want. Now, there is no need to get worried about the location where you can fit your turntable.
The MusicCast VINYL 500 Wi-Fi Turntable makes you enjoy your vinyl with extraordinary sound quality or stream music from your lovable services.
VINYL has many services like 500; it expands to a multi-room audio setup by syncing with MusicCast wireless speakers. In other rooms, and its wi-fi service makes everything joyful because you can play whatever you want from your mobile phone, though.
You can attach your speaker with a subwoofer and wireless speakers effortlessly. MusicCast offers wireless freedom; whenever you want to pair your turntable with any device. Therefore, it is a big blessing of wireless technology to freely connect your turntable with any other system.
Pros
Enjoy Multi-room Vinyl Experience
Wireless Freedom.
You can create a dynamic stereo setup.
Cons
It is not compatible with Sonos and Bose speakers.
Verdict:
Music is one of most people's favorite hobbies as they love to listen to it even when they are working. For this purpose, the largest turntable is required. MusicCast is known as the best turntable under 1000 because you have wireless freedom with the laptop, and you can also enjoy a Multi-room Vinyl Experience.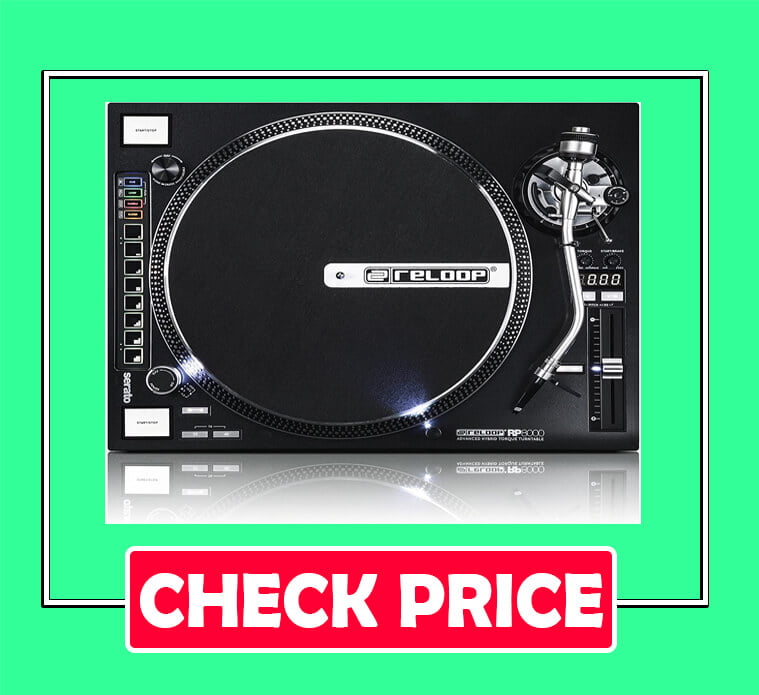 The Reloop RP-8000 is a hybrid high torque turntable that combines direct drive technology with digital control to give the best sound. So you can feel all the musical instruments very clearly. This RP-8000 advanced turntable can communicate with any midi compatible DJ software and turn your inconvenience in comfortable.
Key Features:
Serato Scratch Live mappings help control the popular DVS system, and its four features allow access to creative elements such as eight hot cue points. It contains eight multifunctional drum pads that help in setting and triggering the loops.
The Turntable Link Mode is also fantastic because up to four turntables can be connected via USB. The sophisticated and fast turntablism showcases look elegant and work without any problem and the additional start/stop button for variable torque and vertical positioning.
The reverse button and an adjustable start/stop time help in mixing. The turntable even consists of a line/phono switch that directly connects to line inputs of mixers or amps without grounding.
Its Large Trax encoder and Auto deck-assign feature gives an excellent performance of Reloop and produces loud and clear sound by diminishing surrounding noise.
Pros
Large Trax encoder.
Auto deck-assign feature.
Turntable link USB port.
Cons
Not good with Serato DJ Pro.
Verdict:
If you are very choosy and picky about your items, then this Reloop material is suitable for you because its features are very functional and style is beautiful. Bring this melodious and harmonious instrument to your home to add joy, fun, and entertainment. Don't delay to place its order.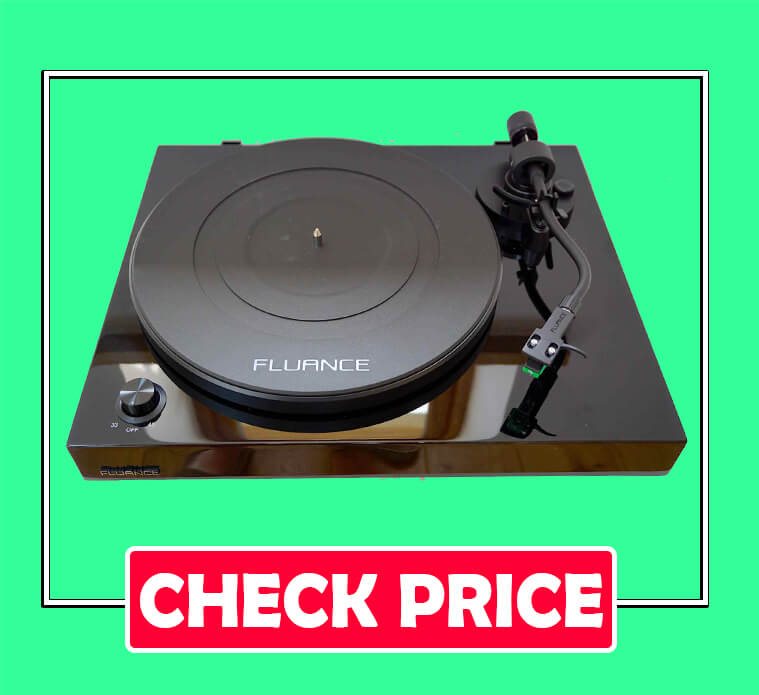 Fluance RT81 Elite is a high fidelity Vinyl Turntable, which makes this high fidelity belt drive turntable to create the performance the way the artist intended.
Key Features:
Fluance RT81 gives a new stayed music experience to users, right according to their requirements and needs. The quality of this turntable is also very reliable and worthy. It contains a high-performance cartridge designed to track your record grooves with greater precision & accuracy for high definition audio.
You can enjoy perfect playback using the balanced aluminum, and its S-Type tonearm is perfect playback using the balanced aluminum S-type tonearm.
In terms of sound quality, the Fluance RT81 is made up of perfect quality that produces high-quality sound. It is a combination of a nice amount of detail, and the plastic tonearm does an excellent job of tracking records. This superior quality turntable is perfect for analog listening.
It is a very affordable turntable that gives much and much to its users significantly less. This high-performance portable turntable is very durable because its intense material ma makes it lasting. Therefore, don't worry if you are investing in this high-precision turntable as it gives an outstanding result at a significantly lower price.
Pros
You can get a pure analog listening experience.
This turntable vies stunning signal clarity.
Its concrete wood plinth makes it sturdy and worthy.
Cons
Dust Covers can not bear much stress, and it can get scratches very quickly.
Verdict:
This incredible turntable is designed to deliver high-quality sound and can be used at even significant events. It offers signal clarity by reducing vibration and by eliminating surrounding sound. Bringing this turntable at home is all pleasure and entertainment. You will feel like you are in your home cinema, so rock and roll your parties with this exceptional featured turntable.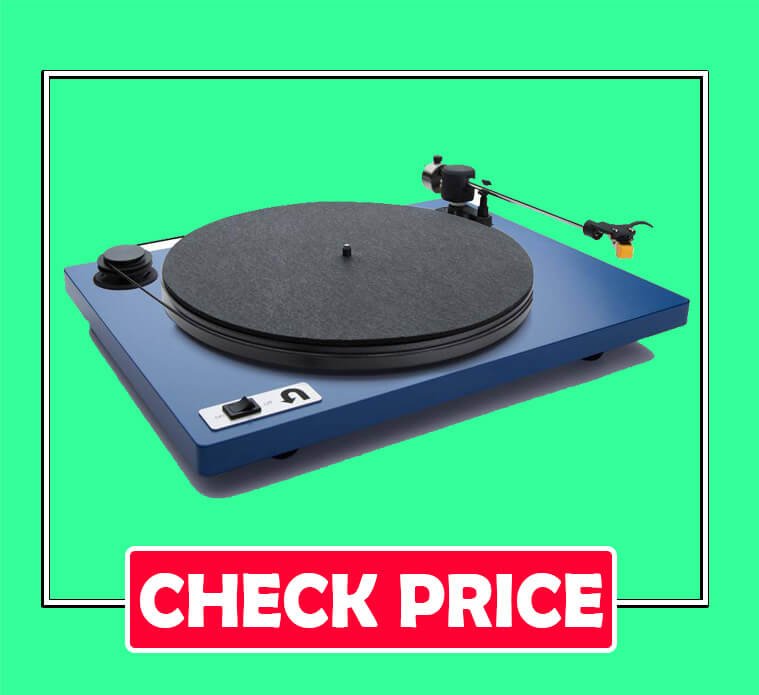 U-turn audio is an excellent turntable that provides open and dynamic sound, and its split pole pin design results in less coloration.
Key Features:
The Orbit Special turntable pairs high-performance features and offers valuable quality to the buyer. Its hardwood plinths are constructed out of sustainably sourced, making it perfect for professional uses and even a home. The Orbit Special also features the Ortofon 2M Red cartridge and includes a cue lever for easy tonearm operation.
Our OA2 gimbal arm uses precision bearings to get frictionless movement and allows the stylus to move on its tracks. It eliminates distortion and captures more detail by providing easy tonearm operation.
This item's weight is 17 pounds, and its dimensions are 20.9 x 17.2 x 9.9 inches; therefore, it is straightforward to carry this turntable anywhere you want. The platter is 5/8" thick and weighs in at three pounds only; moreover, it features a lathe-turned edge.
Its low-Resonance Acrylic Platter gives excellent speed and offers a lifelike experience to its users. It is a super quiet turntable that doesn't have its annoying sound but produces high-quality sound.
Pros
Two-Speed Belt Drive System.
Ortofon 2M Red Cartridge.
Low-Resonance Acrylic Platter.
Verdict:
The Orbit Special features an external two-speed (33 1/3 RPM and 45 RPM) belt drive that ensures smooth operation and doesn't produce vibration. Its changing speed takes just seconds with the external belt. Orbit Special turntable is 17 pounds in weight and ⅝" that makes it the best turntables under 1000.
Also, if you are a beginner and don't want to spend this much on your first turntable then we have best turntables under 500 dollars that can provide you great performance including the advanced features.
Buying Guide of Best Turntables Under 1000
If you are looking for unique features, a turntable that pays off your investment by giving you something extraordinary and unique, then go through our guide. It is challenging to go into the market without having basic information regarding turntables because, in this way, there are chances to waste time, energy, and effort. Therefore go through our guide to save your money and invest in a reliable place.
Let's go through a detailed and informative guide of the best turntable under 1000 dollars!
Budget:
The best thing to buy anything is to look at your budget because going out of the budget can make the situation unpleasant. Definitely, you can buy the best even in your budget, too. So, look at your bank balance and the features you want, then move ahead to grab the item that fits.
Related: The Best Turntables Under 300 in 2022
Space
If you're going to buy a turntable, speaker, and amplifier, then ensure that you will place the, look at your space, and then buy the size accordingly. You can put it on your vertical shelf as well on a flat surface. Therefore consider this an essential factor in avoiding inconvenience or stress.
Vinyl Size and Turntable Speed
The first thing you should look for when finding the turntable is the turntable's speed and scoring ability. Do consider the revolutions per minute (RPM) records play at varying speeds, and then go for the turntable that can play the record size you have. We will brief three measures of records: 7, 12, and 10 inches, and they can be played at 45, 33, and 78 RPM, respectively, so you can grab accordingly.
Overall Condition
Look at the overall condition of the turntable's chassis. How's it look? Whether aesthetic, seamless, ergonomic, or battered, chipped, unkempt, excessively dirty, and slimy. If the turntable looks unkempt, chipped, or battered, then there is something suspicious.
Drive Type
Drive type-options are of different sizes that can be chosen accordingly, and these drive type Drive types enable you to get a better listening experience. If you want vibration-free sound, then belt-driven turntables are best at it but keep in mind both types have their pros and cons, and those all are negligible.
A belt drive system is accurate for a music enthusiast, while on the other side, a disc jockey needs a direct drive system that helps spice the record back and forth. So, you should make sure that you are spending the right amount of money for performance. Hence, you must consider that you should spend your money for both purposes: design and efficiency.
Upgradeable Parts
You're going to spend 1000 dollars on your turntable, so you should be careful that you will not waste it anywhere. Suppose you're paying around $1,000 for a turntable. In that case, the record player includes decent parts that deliver its intended performance level. You are supposed to look for all upgraded and up to date features because it is impossible to spend a dollar 1000 after some time again. The performance of a turntable can be improved by looking at the upgraded features.
The above-mentioned guide will help you in picking the turntable. Go through this guide before placing your order.
Also Read: The Best Turntables with Preamp 2022
Frequently Asked Questions (FAQs)
What is the best budget, turntable?
Pro-Ject Primary is the best budget-friendly turntable. It is not heavy in your pocket because you can get a high-quality sound from this turntable. This turntable gives you more than you can expect from this rate. This hi-fi turntable is suitable for many people running out of budget because they will be able to save their money and offer all features even at a low price.
What is the best turntable under $1000?
Pro-Ject Debut Carbon Evo Turntable is the best turntable under 1000 dollars, and it is the first Debut turntable at the end of the last century. This turntable is an excellent turntable that has been refined, upgraded, and become increasingly expensive ever since. Moreover, this Debut Carbon Evo is the most upgraded and refined model so far. It is a reliable and durable turntable that gives you a lot of fun at your special moments.
Will cheap turntables ruin records?
The answer is somehow, yes. Yes, turntable damages the records as your records are precious and integral, and if they are played on a very cheap turntable, you can use them only for a few hours, not very long. Mostly it is supposed that your cheap turntable will ruin your record after 40 hours approximately.
How much should I spend on a turntable?
It is not related to the money; it's about the features you want. You get a lot at less price, so $100 to $400 are affordable turntables, but a quality turntable will cost much and sound greater. Most Hi-Fi stereos last for decades and cost between $400 and $700, and, yeah, it is a sweet-spot for turntables.
Our Conclusion:
This article has reviewed our top ten best turntables under 1000 dollars that will suit you, your style, and requirement. We hope you have chosen one of those according to your choice. Have you? We have also mentioned a detailed and useful buying guide of these best turntables to save you from inconvenience.