A turntable is usually used to play audio records, and it needs a bit more care than an MP3 or CD Player. These turntables were previously known as Phonographs or the Gramophones and are used to play Vinyl songs.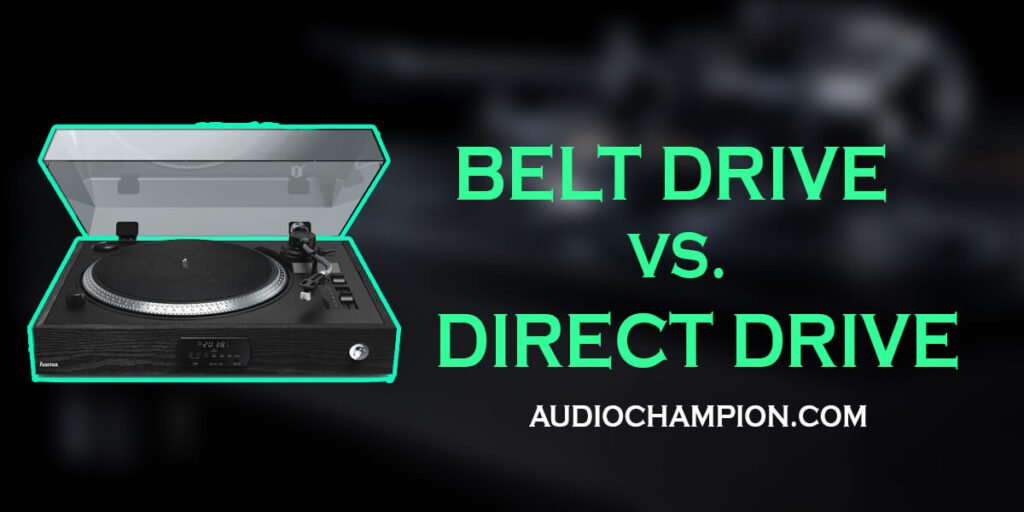 Turntables are a part of the tradition, but in this century, sales of turntables have been rapidly increased as DJs and other music enthusiasts still use them to fine-tune and blend their music records to spark up their music games.
The turntable is used to add more fun to a daily routine. You can enjoy the music of your favorite choice in a louder voice than you ever expected. Do you think that the Belt-Drive vs. Direct-Drive Turntable is a tough-to-understand comparison? It really isn't!
If you want to upgrade your turntable or to look for a new turntable, you will notice that turntables are categorized into two types:
Direct Drive Turntables
Belt Drive Turntables
Do you want to explore how these two types are different? What are their exclusive features? We'll explain the details, and you'll find answers to all your problems.
Both Direct Drive and Belt Drive are excellent, but their performance, efficiency, and price make them a bit different from each other. The primary and fundamental difference between these two turntables is debatable for the last 50 years.
But still, if we try to find the difference between these two audio devices, the difference lies, to some degree, in their use and price. First of all, let us be clear, though both drives are critical and essential, still, their presence differently affects the turntable's performance.
In Direct drive turntables, the motor is located under the platter that enables it to rotate directly. On the other way around, belt drive tables have an offset motor – and that is wrapped in a thin belt around the spindle. It is made up of rubber, which hugs the main platter and spins it like a pulley.
But, there are many other factors, too, that affect turntable efficiency. Such as the quality of the tonearm, photo cartridge, construction quality, and basic design of the turntable itself.
Let's have a look at the basic features of both drives that will represent their differences, too.
Belt-Drive Turntable – What You Need to Know
Just as the name indicates, these turntables are belt driven. They use a belt that runs with the help of a motor and starts spinning the platter. These Belt-Driven Turntables' motor is located somewhere off to the sides and features a wrap to cover the turntable platter.
The belt comfortably isolates or separates both the motor and the platter. Most of the time, these belt-drive units take some seconds to catch up to their full speed as they are belt dependent.
The belt may wear out after long use, but it doesn't add up the expense as it's cheap and easy to replace.
Direct-Drive Turntable – What You Need to Know
Direct drives are very simple in construction but are efficient in performance. They vary from the belt-drive in the following parameters:
Direct-drive turntables catch speed right when they are started, and the motor directly lies beneath the platter.
It is very smooth and more comfortable to turn off a direct-drive turntable because the platter spins freely without the influence of any resistance.
As mentioned earlier, these two features lure DJs worldwide and make direct drive turntables a great choice for them. A turntable can spin and play the record in all directions without imposing any risk when the motor gets off.
With Quick-Start Feature, most Direct-Drive Turntables assures that the stylus falls on the right groove and plays absolutely fine music from the very start. This saves a lot of your time and effort in fixation.
Direct drive table also offers you the facility to change the speed of the turntable. Therefore, if you are picking this drive for the best of your DJ Performance, even then, you're choosing the right thing.
It will enable you to control the speed, and if, as a DJ, you want to blend in some songs to showcase your creativity, these turntables won't disappoint you.
Simply, by adjusting the Speed Range, you can also blend the songs to make the joy roar.
Significant Difference Between Both:
Belt-drive tables take more time to speed up than Direct-Drive ones. The belt is also a part of the working mechanism; therefore, you may create a mess for yourself if you spin the platter with the motor off.
Also, the platter won't be able to rotate freely due to the belt's opposition. Furthermore, if you opt for belt-drive, you probably miss switching as it doesn't allow speed switching other than 33 to 45.
If you're going to use Turntable for your DJ performance, clearly, a direct-drive is the best choice as it allows the finest speed, free-spinning, and commendable speed adjustments.
Speed – Belt-Drive vs. Direct Drive Turntable:
You may have an idea of both turntables until now. The Direct-Drive Turntables get to their high speed comparatively sooner. Contrarily, as the Belt-Drive runs on the rubber belt, the belt may worn out soon, but that's too affordable.
The clients who use Turntables commonly say that the belt-drive turntables are better at stabilizing their speed without creating any noticeable changes in the audio pitch. That's maybe because it doesn't drive the speed abruptly, and slowly drifting over a longer time span makes the changes negligible.
You may be clear now; a belt-drive turntable demands a heavy platter along with a seamlessly isolated motor to produce boom-free clear audio output. If you somehow manage to get the best in terms of these two features, you would probably select a turntable that works exceptionally.
Where a direct-drive can give you immense control over music blending on your showtime, a belt-drive can play your favorite music almost effortlessly.
Price – Belt-Drive vs. Direct Drive Turntable:
As popularity increases, the features also evolve from time to time. Now you may again come across the updated motor technologies that effectively reduce those minute speed changes. In some latest models, you may find some massive platters to provide extra finest music output.
That's why if you can afford an ample budget, you should search for some high-end turntables as the options are endless and commendable. You can get a fine turntable in as low as $250, and a high-end one may cost you somewhere between $400-$700.
Commonly, a belt-drive turntable isn't as expensive as the direct-drive and works great for general purposes. You can satisfy your music craze even by picking a belt-drive turntable.
What if you're not a DJ?
As mentioned above, DJs find their sweet spot while playing with the Direct-drive, but if you're not a DJ, a Belt-Drive Turntable will work great for you. If you want to play loud music while working in your backyard or the kitchen, belt-drive will yield the best for you.
You need to figure out your needs before deciding because spending even a penny on something you don't require is worthless.
If you're a vinyl lover, you won't need to change or fix the speeds and music blending. You can enjoy listening to all the pre-recorded variations with the least possible distortion, and that's all you want if you're not a DJ.
Certain factors badly disturb the output of a turntable. Most of the time, you may only wish to pick up the music in the grooves and may get into a mess as your stylus tracks through the gauge.
The background boom that you hear while playing something on your Direct-Drive Platter may be due to the massive high-torque motor setting underneath. Contrarily, the Belt-Drive Platter is not explicitly connected to a motor other than a rubber belt, and thus, they significantly feature a clear voice.
The vinyl has been a love of many listeners, and this is because it connects to the soul immensely. You can feel the beauty of vinyl strings only when you opt for a great turntable. Know your specific needs, and research properly before selecting a turntable as it's not every day when you can spend many dollars on a turntable.
Conclusion:
Having a turntable at home is extremely fun, but the features of every turntable vary. Therefore, choosing the best and relevant turntable is essential. Some turntables come with belt-drive while others have direct-drive; you can choose any of them according to their features. This article has described both turntables' characteristics, and you can choose any of them accordingly.
Both turntables are of worth quality, and investing in them will not regret you ever. Just pick any one of them according to your need and budget.