The DJ rolls the record, points the stylus, and gets ready to set their feelings to music. You come home after a long day of work, scratch your favorite CD, and put on a euphonious melody to unwind. The archaic café is set up, furniture in order, and what brings it all to life will be a tinge of old-fashioned harmony.
Sounds awe-inspiring, right? Do you know what can turn these scenarios into reality? A cutting-edge turntable to blast your favorite tunes at your command.
Vinyl players have been around for some time now. Be it a romantic night out or a family gathering, a classical goods shop, or an art gallery – a stereo offers a roller-coaster of emotion and joy, love and longing. But how do you find such a magic-music machine for yourself? We have done our research, so you don't have to. Read along to unfold some stereo-mysteries.
In our Crosley Cruiser Review, we have decoded the vernacular to assist you in finding a suitable old-fashioned yet high-tech sound system for yourself. You will find an answer to your technical confusions and product-related queries in this article. So join the bandwagon to figure out if this vinyl player resonates with you.
Crosley Cruiser Review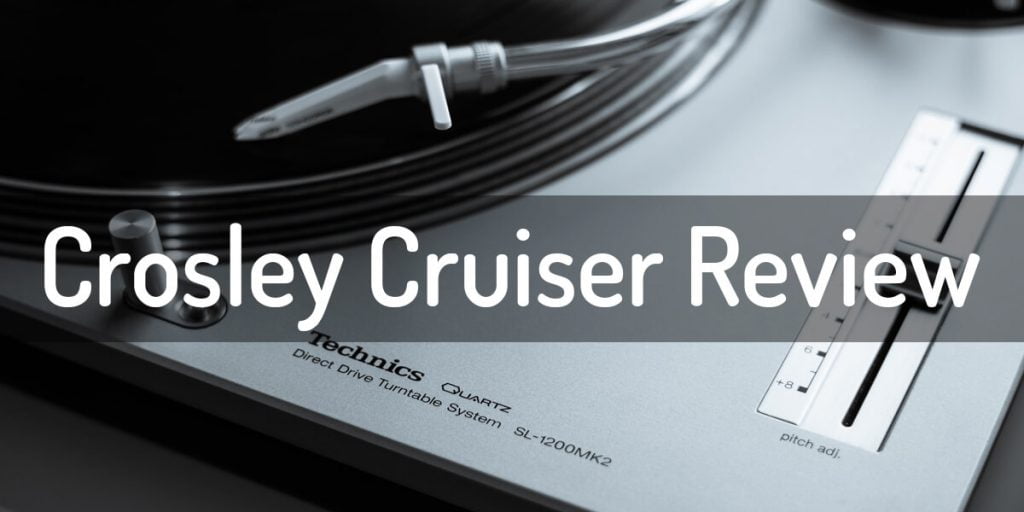 The Crosley Cruiser is a briefcase-style turntable designed by Crosley Radio – a company that stands for individuality and renewal of old values. This stunning vinyl player is an attempt to reinstate phonographs in a design that is future-proof and adaptable. Let's have a look at some of the key features to see what this product has to offer:
1. Size and style – a treat to the eyes:
This stereo is a compact product that folds up like a briefcase so you can pack it up and enjoy your music on the go. The lightweight body makes carrying a breeze. It measures 14×10.5×4.63 inches and weighs a mere 5.5 pounds, perfectly portable for outdoor parties and road trips.
The elegant device entails a leatherette or velvet covering, available in twenty-two different color options, suitable for every taste and aesthetic. You can choose a layout in sync with your nude palette, pastel interior, or vibrant studio design in a heartbeat.
The exterior is made from top-quality products that will last you a long time.
2. The speed – all that jazz:
Play your favorite classical note, a heartfelt ballad, or that four on the floor beat with matchless freedom. This breathtaking turntable offers diversity and assortment as it can play music at spin speeds of 33, 45, and even 78 RPM, a remarkable feature offered only by top-notch products.
With the adjustable pitch, the stylus will trace the grooves etched on the CD at your command, letting you tune in to your favorite music at an optimum frequency that sounds good to your ears.
3. Let's beat the drum for connectivity
Gone are the days when your music choices were restricted to finding relevant vinyl CDs. Prepare to enjoy an endless variety of music as you can connect your smartphone or tablet with a 3.5mm auxiliary input. Use the cord included in the package and dance away to your tunes without the hassle of finding wires and connectors.
Hate cords and tangles? Here's some music to your ears: The phenomenal Bluetooth lets you play your song and jam that beat with a hassle-free wireless connection. You may also pair up various smart devices with the stereo for added fun.
4. The audio – let us blow the speakers up
The sensational stereo speakers that convert electric to mechanical to sound energy will take you on a magical ride of tasteful music. Play a harmony in your living room or blast that album at a party with these dynamic, full-range machines.
Not satisfied by the audio quality? Use the inbuilt ports to attach your external device or woofers to get the best possible results.
5. Compatibility – it's important to be in tune
The Crosley Cruiser has notable compatibility with several gadgets. You can use the RCA and headphone jacks to access music from multiple resources. Plugin your favorite handsets and accessories and dance your worry away to tasteful chimes.
6. The price point
For the features and dynamic range of music it offers, this vinyl player sells for a song. So pick it up for your home, on a road trip, to celebrate an anniversary, or as a gift to a loved one that they may cherish for a long time.
Now that we have had a good look at the features of the Crosley Cruiser, let us roll on to the pros and cons before we wind up with a verdict.
See also: Check out The Best Turntables Under 300
Pros
Compact and portable- perfect for travel.
Quality production- durable and hard-wearing.
Elegant design- available in multiple colors to adorn your space.
It plays any record with three-speed settings.
Remarkable connectivity for easy access to various music resources.
Affordable price range.
Cons
Speakers not at par with the latest technology.
Cannot play F/M or A/M radio.
The absence of a USB port can be limiting.
Verdict
The Crosley Cruiser is a vanguard design, breathing new life into the world of record players. This turntable has a stylish, portable exterior that you may set at a table or take on the go. The vinyl player can play a multitude of records owing to the three spin speeds it offers.
The high connectivity and compatibility with various devices add value to this stereo. And it is all brought together by an enticing price point that makes this turntable accessible to the masses.
The speakers, however, may not compete with those of the latest record players. The failure to play F/M and A/M radio may also disconcert many, as will the lack of a USB port. But this record player offers a world of opportunities to music lovers for exploring their passion and maybe a good value for money.