Having car door speakers is a cool thing. The best advantage about having them is that they occupy less space and give a good quality performance.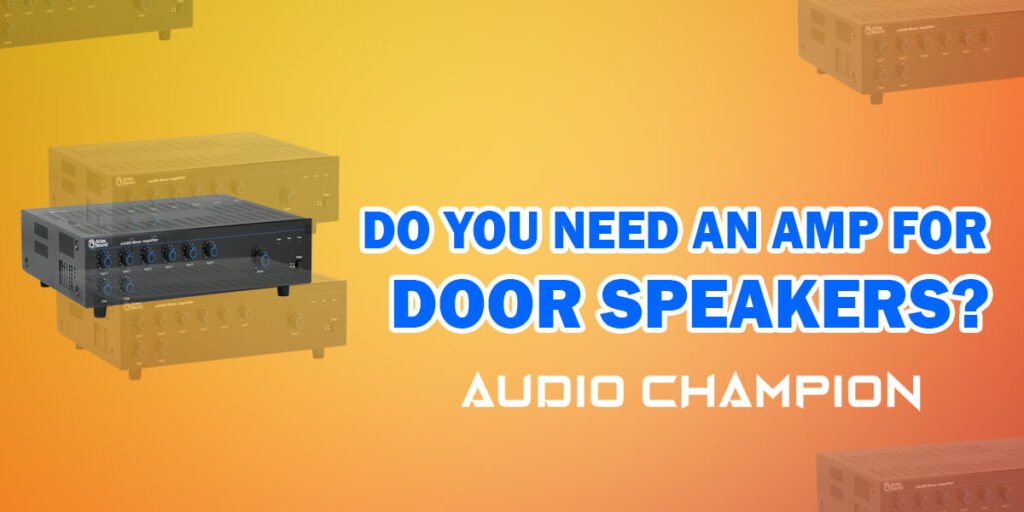 But sometimes you might be thinking that your door speakers are not performing that well as you want. In this situation, you may think of changing your speakers or to get an amplifier for them. Changing the whole speaker's set will cost a high amount.
Also Read: How You Can Make Car Speakers Louder Without Amp
So if you are thinking about the second option but are confused that either do you need an amp for door speakers or not. Then to remove your confusion and to make you convince, let us see what amp are?
What are Amplifiers?
Amplifiers are basically used to modify speakers' sound, but how they do this? Amp increases the amplitude of the source. They increase the signal's power coming from the source in a way to be used by the set of the speaker for better performance.
There is no doubt that the amplifier is the best equipment that you can use to increase your speaker performance.
Amplifiers are actually comprised of high wattage that when you use it with even a $50 speaker, no can say that your car door speaker is a common one. Its performance will make people believe that it is an expensive speaker with top quality features.
Discussing about amp' price, they are a little bit expensive but their power pack performance will never make you feel like you have wasted your money on anything useless.
But Why Do You Need an Amp for Door Speakers?
First clear a few things in your mind that, do you want your car door speaker's performance louder? And do you want your car door speakers to be distortion-free, and attract everyone's heart towards itself? If yes, then yes, you need an amp for your car door speaker.
By having an amp you will not only get your speaker's performance louder and distortion-free like before, but there are a few things more that you need to know.
Here we have collected 4 classical reasons that will make you sure that yes you need an amp for your car door speakers.
1. To make your fresh speakers sound high-grade.
Yeah, that's true that your fresh door speakers can perform great even without any amp, but think for a moment that what quality sound you can experience if you use an amplifier with your new speakers, sounds tempting right!
But it's okay if you are not fond of that kind of loud sound, then your head unit will be enough for you.
Another thing that you have to know is that installing an amplifier to your new audio system can prevent you to face problems in the future. Also, make sure that your speakers have the outputs for installing amplifiers.
2. To experience the distortion-free sound
Distortion in a sound can really irritate a person easily. We know that you always wish to experience distortion-free sound, then waiting for what? Go and grab an amp for your door speakers today.
Amplifiers when works with door speakers, give crystal clear and distortion-free sound.
3. To experience the louder sound
The best thing that the amplifiers offer when used with a set of a speaker is the louder sound of High quality.
Amplifiers increase the RMS range of the speaker and make it higher up to a useable level. Don't think that if your speaker will produce loud sound then its quality will decrease. Amplifiers are manufactured in a way that they keep this fact under testing that no matter how louder the sound will be, its quality also should have to high class.
4. To boost up your subwoofer
If you have subwoofers for louder and power pack performance then adding an amp to it is a must thing. Here most people confuse their minds between the concept of subwoofers and amplifiers, let us first clear these concepts.
Subwoofers are actually a set of loudspeakers used to boost the car audio system. While on the other hand amplifier is equipment used to modify the speaker's performance by increasing its signal range.
Subwoofers when added with amplifiers, both work like a beast. Their bass range, sound quality, and performance, everything is unbeatable.
So if you want to experience this kind of performance with your own ears then don't waste even a second, go and grab an amplifier for your subwoofer.
Other Quality features of Amplifiers
Another important differentiating feature of an amplifier is the "Channel". Amplifiers' performance varies on the basis of the number of channels present.
Amplifiers of mono channels to six channels are available in the market. For one set of the speaker at least one amplifier is required. You can also connect more than one amplifier to a single set of audio systems.
For example, a four coaxial speaker can be power up by a 4-channel amp or you can also use a single mono amp for your subwoofer.
When connecting amps to a set of speakers keep one thing in your mind that the power configuration of the amp and the speaker must match each other.
Rules of Thumb for Having an Amp
By reading the 4 reasons we really hope that you have got the clarification that do you need an amp for door speakers or not. If your mind has set that Yes! You need an amp for your door speaker then now let us talk about the things you should consider while selecting an amp for your door speaker.
RMS power range
The best way to select an amplifier for your door speakers is to select the one which has a power range equal to or less than your speaker RMS power.
Matching the RMS power range of your speaker to an amp is a must thing. Having an amp of higher RMS power than your speaker can affect the performance of the speaker greatly.
Line Connection
The second thing you have to check is that the amp you have chosen is either having the option of speaker's line connection or not.
This is a must thing to be check. What if you purchased an expensive amplifier and find out that it is not having the option of speaker line connection, all money wasted!
Conclusion
Here in this article, we discussed that out why do you need an amp for door speakers and to convince you we shared four classical reasons that make you sure yes! you need an amp for your door speakers.
The only reason that you are here and convincing yourself to have an amp for your door speakers is to enjoy the power pack performance that the amplifiers offer.
As we have mentioned above that amplifier is an amazing but expensive product that you can use to enhance your speakers' performance.
While having an amp you have to be very careful about some factors which can affect the performance of your speaker.
Lastly, we do hope that the article must have helped you in clearing your confusions and doubts about amplifiers and their work. If yes, then go and grab an amplifier today and enjoy the everlasting and amazing performance.