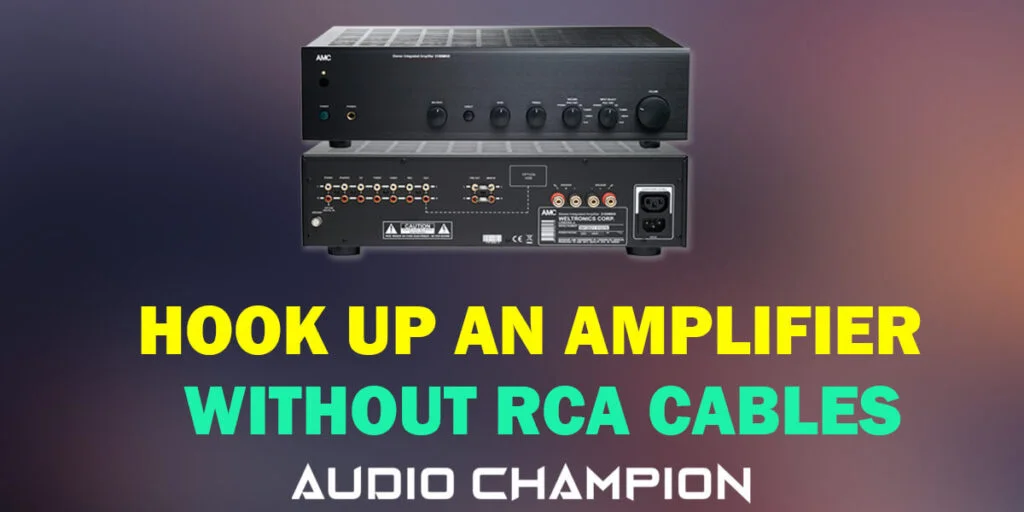 Amplifiers are one of the powerful equipment you can have for your speaker to make its sound quality better and louder.
This device's main work is to turn the low power signal from your source into enough power signals to be used with a set of speakers. There is no doubt that a better amplifier makes the speaker sound better, but it doesn't do the magic of changing a bad speaker into a good one.
High-class brands are making high power amplifiers with more than 1000 watts that you can use with even a $60 speaker with no difficulty.
Installing amplifiers to your speakers is such an overwhelming feeling. But installing an amplifier without RCA cables can be a headache. Normally amplifiers installation depends on the RCA port, but there must be situations where there is no RCA port present.
For those situations, you will rush yourself for the solution of how to hook up an amplifier without RCA cables. But no worry there is not rocket science present behind this process.
Actually, most old audio systems lack the RCA cables; if you are also using an old audio system then you don't have to worry that you can't push your subwoofer or speaker's sound higher.
Here for your convenience, we have found out the easiest way with which you can install your amplifiers with your speakers like a pro.
Wait!
Before stepping into the process of installing the amplifiers, there are few things that you have to check.
Make sure that the amplifier that you have chosen is either capable of adopting the speaker line connection or not.
The second thing that you have to check is that the amplifier's RMS power should be less or equal to the speaker's RMS power.
Now if you have cleared all the errors, without any further due, let's get straight to the point.
How to Hook Up An Amplifier Without RCA Cables
You are probably here to find a way to modify your old audio system into a new one for better and clear performance. Here are the 3 easiest ways to set up an amplifier without RCA cables.
1. Use High Level Inputs
One of the easiest ways to connect an amplifier without RCA cables is to use a high level input on an amplifier also known as high speaker level inputs.
This method is relatively easy for the car whose speaker is set in the truck because the path for the wires is relatively short. Same, if your subwoofer or speaker is mounted in the car's front seat then it will be easier to set the amplifier with the speaker.
First, before setting the amplifier, disconnect your battery negative terminal to avoid any kind of short circuit. Now take the red power wire of your amplifier and attach it to the fuse holder of the battery. Secure the connection of the fuse holder to the battery; it will help you to generate the power.
Also, connect the power and turn on the wire to your amplifier. As now you have set up the power system for the amplifier, it's time to connect the main audio system to your amplifier. Take both right and left wires of your vehicle's speaker or subwoofer and tear the small end of it and connect it to the amplifier's wires.
Benefits of This Method
This method is very much easy to install and does not require any other ingredients.
However, there is a thing to be noted that not all amplifiers have the speaker level input.
2. Use a LOC
After reading the first method if you are still confused and thinking that how to hook up an amplifier without RCA cables, then have a glance at the second method. We are pretty sure that it will surely help you to sort out your problem.
Being a music lover you only want to upgrade your car's audio system quality, and just want to have fun with your friends by making them jealous of your audio system, not a good thing, but it's alright.
Amplifiers work like magic on your speaker. They just add sprinkles of their high power and make the speaker sound quality the best. The second method that we have is to use a Line Output Converter (LOC). The Line Outage Converter or (LOC) helps you to convert the speaker's output level signals into amplifiers' level signals.
A line-output jack may simply be defined as taking the audio signal from the source and forwarding it to another machine via the connected cable.
You know what? If your speaker does not have a high-level signal then using the Line outage Converter (LOC) will be in the best condition for you.
What you all have to do is simply; get a Line Outage Converter (LOC). Now connect the receiver wires of the speaker with the Line Outage Converter (LOC). And also connect the amplifier wires with the Line Outage Converter's input, that's it.
Benefits of this Method
There is no doubt that the whole process of installing the Line Outage Converter or (LOC) is quite easy. Now let us take about the benefits that we get by using this method.
The first benefit of this method is that the Line Outage Converter delivers a very clear and better signal to the amplifier.
Second its installation is very easy. The Line Outage Converter is present in a broad category of shapes and sizes.
However, a few Line Outage Converters are pretty expensive and you need to purchase an extra ingredient for it.
3. Use a Speaker wire
Wait! Are you still finding the solution of how to hook up an amplifier without RCA cables, don't tell! Well, still not a problem, because we are only here to sort out your hectic problems. Hooking up an amplifier without an RCA cable is such a frustrating task. But for the sake of powerful and clear sound quality, you have to face this task.
Because normal old speakers lack the RCA port, only due to this you are rushing too much to find the substituent of it.
Now, coming to the point. The third and last method we have is to use a speaker wire with RCA adapters.
Now first see your amplifier's specification and check that either your amplifier can support the high-level RCA's input or not. Now purchase ordinary RCA adapters and connect it to the speaker. Using the speaker's wire adapter to hook up an amplifier is a very simple process. These adapters help you to transform the speaker wire into RCA plug connectors. This means that you can directly connect the car subwoofer or speaker to your amplifier for better performance and sound quality.
Benefits of This Method
The topmost benefit of using this method is that RCA adapters are very easy to find and are very cheap which means that you can easily afford them. The second benefit of this method is that it gives crystal clear sound quality. Lastly, these adapters require less amplification from the amplifier (more power with less work.)
Remember!
You have read the whole article that how you can hook up an amplifier without RCA cables. Setting an amplifier without RCA cables is not a big and difficult task as it seems. But once you learned the skill of hooking up the amplifiers with your car's speakers, prepare yourself to have the best sound experience ever.
Amplifiers when works with car subwoofers or speakers, they literally give a jaw-dropping performance.
From sound quality to power pack performance, everything is beyond perfection. The crystal clear sound quality and better performance will make you confidant that you have chosen the best method to hook up your amplifiers without RCA cables.
Wrap Up
We really hope that our all provided three methods will surely help you to sort out the issue. Lacking RCA cables is not a difficulty anymore because nowadays for every problem there is a solution. All provided three methods are best in their shoes.
The first method is quite easy to install and does not require any extra components for installation. In the high-level output method, the thing you have to be careful about is to make sure to disconnect the battery negative terminals before starting the whole procedure.
The second method is also very convenient to install. The Line Outage Converter or (LOC) is a great way to connect the amplifiers with the subwoofers or speakers. LOC is pretty much easy to install. The Line Outage Converters do not require any other component, but few are a little bit expensive to afford.
The third method is to use a speaker wire. The RCA adapter is pretty cheap in the market, and the quality of sound after using RCA adapters is also very satisfying.
Lastly, we really hope that after reading our given methods, in the future you will never have to research how to hook up an amplifier without RCA cables.