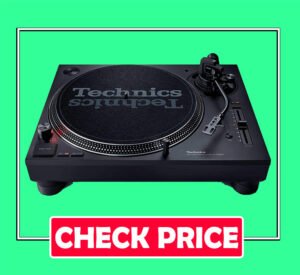 Many would consider Technics turntables to be some of the best hi-fi turntables to exist. There is no denying that Technics as a brand is expensive, however, it also has some of the best features around and that's why it is so popular. The Technics 1200 MK7 is one of those devices which are moderately priced when compared with some of the brand's other offerings.
This article is going to dive into a detailed review of all specifications of the MK7 and then we will also answer some of the most frequently asked questions! Talking about design and construction, this turntable comes with a more stylish and modern look with a sharper shape and design that keeps it looking classy as ever. While there isn't a ton of difference, you do get the feeling that the buttons and fader are redesigned.
A new addition to this device is the x2 pitch button which doesn't pop out too much and has an important job of adjusting the fader's range. One apparent difference is that unlike previous models the dust cover in this one is placed on top and doesn't hinge. One serious problem with earlier Technics turntables from this range was that the cables were problematic in the sense that they had to be replaced or fixed a lot. However, with the inclusion of RCA sockets and an IEC power socket, this is no longer an issue.
While it is always ideal that a turntable is heavier so that it has the right amount of stability and audio support, some products out there are so heavy, it becomes nearly impossible trying to move them. This is why it is appreciated that the MK7 is more lightweight in comparison to its predecessors. It weighs just over 7.5 kilograms and this allows the user to move, store or transport their turntable with considerable ease.
You won't even have to worry about the stability even though it is true that heavier platters decrease the amount of resonance and audibly enhance the speed stability but the MK7 does just fine for itself. It comes fitted with an innovative glass and plastic-based composite which makes up its chassis which works the same way a heavier material would but is simultaneously lighter.
Another cool feature of this device is that it comes fitted with a coreless motor which works with the same technology you would see in Blu-ray. All in all, if you are looking for a device that looks great, plays your audio great, and will last you for a long time, then the MK7 is what you should invest in! While there are better audiophile turntables fitted with more features, this device is all about reliability and high-performance output.
Technics SL-1200MK7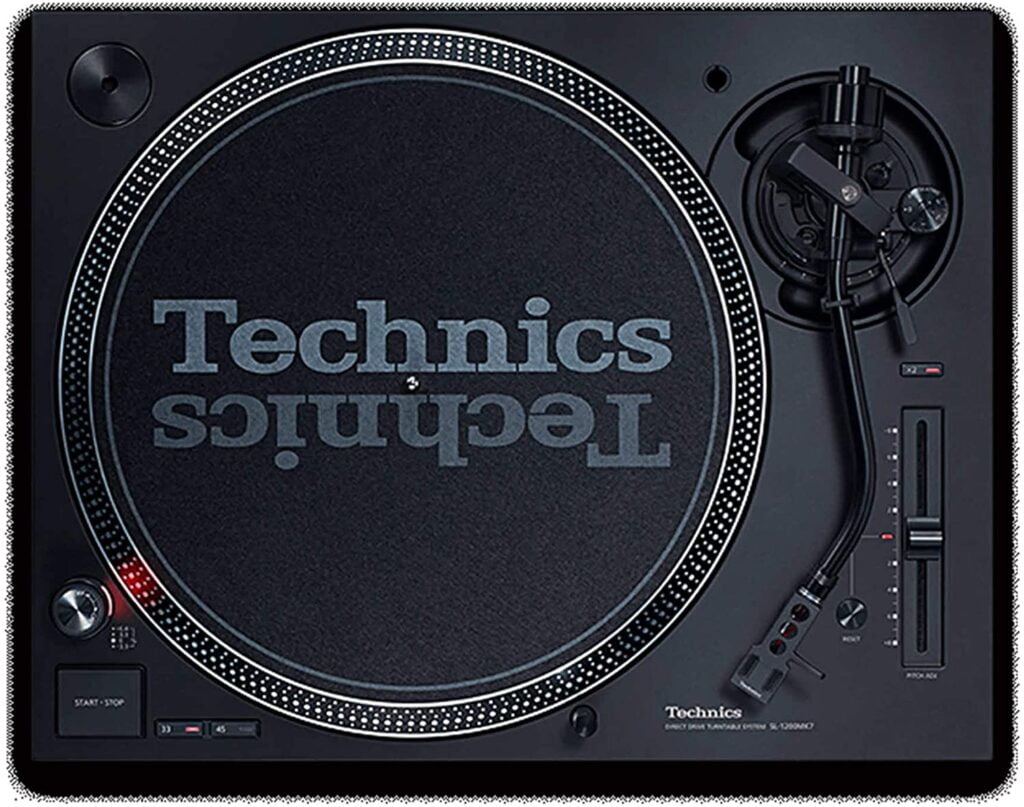 Talking about some of the main features of the Technics SL-1200MK7, you will quickly realize that there hasn't been a lot of updates with this device since it still comes in almost the same kind of design you have become familiar with.
This means that you get the same layout for the buttons and the S-shaped aluminum tonearm is also the same. One apparent and welcome difference is the sleek and matte black finish the buttons now have.
You also get to work with a handy strobe light indicator, which you can easily switch from red to blue. There is also a push-down white LED stylus illuminator along with an updated stylus illuminator which ensures that even in low light situations the tip of the needle is completely visible at all times.
This means that visually, the device does have some modifications that help it set itself apart from the competition but in terms of audio capability and reduction in resonance, the device is pretty much the same.
While it is true that there has not been a ton of upgrades in this version, we are happy with the addition of the Reverse Play feature which allows you to reverse the deck direction by simply holding a speed button down and then clicking on the power button as well.
Pros
S-shaped aluminum tonearm.
Reverse Play.
LED stylus illuminator.
Detachable power and phono cables.
Matte black finish.
Upgraded stylus illuminator.
Now let's take a look at some of the main FAQs:
What's the difference between Technics 1200 and 1210?
While both are considered to be as good as the other, the Technics SL-1200 has been made to be a hi-fi device instead of being something that just anyone could enjoy. It comes from a series of direct-drive turntables from the Panasonic brand and under the sub-brand name of Technics.
When you look back in the device's history, you will see that it is meant to be something entirely different and this was in 1972, where the device was a mid-range turntable as a part of the Technics hi-fi range. So you might be wondering why did a device meant to be something else originally get to be one of the most popular record players now. Well, the brand saw potential in this due to its great sound quality, decent construction, and when compared to others, a budget-friendly cost.
Overall, when you look at the semantics, you realize that there is not much difference between the Technics 1200 and 1210. The only real difference is that the number 1200 and 1210 have come to signify the color change more than anything. 1200 is silver whereas1210 comes in a brilliant gunmetal grey.
Why Are Technics Turntables So Expensive?
There is no denying that Technics is a brand that is overall way more expensive as compared to some of its more reasonably priced alternatives. However, according to the brand, the reason behind such a higher cost is due to manufacturing costs being high as well.
When the SL-1200 was released, it was marketed as a hi-fi device for serious music aficionados but the cost which is around 4000 dollars is still pretty insane even if you do want a reliable and premium turntable. While it is true that it is a good investment, not a lot of people will be able to afford this so let's get down to why this is so expensive and how the brand justifies it.
The real reason behind this is that when the device was originally made and they wanted to do an upgrade, they decided to redo the entire concept from scratch. This meant new R&D and new manufacturing processes. Of course, this increased the cost a lot.
Most of the original machinery could no longer be sued since it was either outdated or destroyed and that's one of the main reasons why they decided to practically re-launch the machine. The result is the product that we see today and although it has a very high price tag, it also has a new motor, a new heavier platter, and a complete premium redesign.
While this might still not justify the cost for a lot of users who might opt for a similar alternative with a much more budget-friendly range, for loyal fans, there is nothing better.
How good is Technics SL 1200?
We've been discussing the pros and cons of the Technics SL 1200 throughout this article and by now we know what its strengths and weaknesses are. This answer will work as a good conclusion to the review of the Technics SL-1200Mk2. This device has been made to be stable which does mean that it is on the heavier side. It weighs 26 pounds which when compared to other products isn't too outrageous. There is a lot of talk about how your turntable shouldn't be too lightweight nor too heavy, however, it depends largely on the kind of turntable and its features to correct the sound resonance and quality.
This costs around $1500 but Japanese edition I found on Amazon is a bit more expensive and it seems it's only option available at the moment. It is durable and sturdy which means that it will last you for a very long time. Another great thing about this product is that if you damage it, the components and extra parts are easily available so you can get them fixed instead of buying a new device altogether. Bottom line is that the MK2 is a lifelong investment and we love that! If you're not ready to spend that much here is my top list of turntables under the 500 dollar.
The best thing about the Technics brand is that it grants complete control to the user on their audio experience. All of the components such as buttons and switches are made to be responsive and easy to control. They also feel premium and allow the user to take ownership of the kind of sound they wish to produce. The device's platter is fitted with rubber on the bottom which makes it super sturdy and it weighs a total of 5 pounds.
The coolest features in this have to be the adjustable electronic braking functions which allow the user to stop the platter almost immediately if there is an issue or you just want to change the settings.