Sound systems with wireless connection are getting popular day by day as the young generation is often seen partying or listening to music to make them relax or increase their productivity. It is not difficult to find a stereo speaker or sound system and no doubt you can find a lot of speakers in the market or online but it is somewhat difficult to find a sound system with all the features that make it the best or the perfect speaker for one.
See more: The Best Turntables Under 300 in 2022
Crosley T150 Review
In this article, we are going to discuss Crosley T150 with complete information of features, specifications, pros, and cons. This guide will help you in understanding all the necessary things and considerable factors easily and conveniently. We hope that after getting to know all the features and specifications, you would be in a better position to make a choice.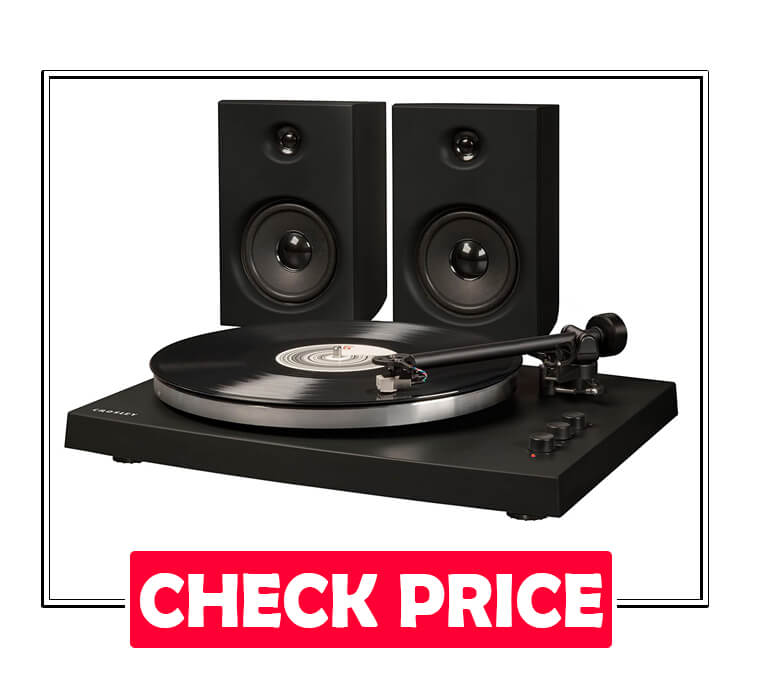 Features & Specifications
Design
The first thing you consciously or unconsciously consider when you look at a product or an item is its design. Crosley T150 comes with a simple yet elegant design that will definitely go with your home furniture or décor. The sound system is available in two colors are black and white.
The dimensions of the Crosley T150 sound system are 18.4 x 14.8 x 10.2 inches and it only weighs 8.49 pounds. The sound system includes two stereo speakers with a turntable and an aluminum tonearm. The turntable is built with a base that comes with three knobs for different settings.
Performance
Before buying any electronic, you must check for its performance because that is what matters most. In our Crosley T150 review, we assure you that it will provide you one of the best performances because this sound system comes with a digital signal format and AC power motor type.
The powerful speakers of 30 watts each can provide you loud, clear, and crisp sound to enjoy your music with a great and comfortable experience. The sound system is built with a switchable preamp that lets you switch between Bluetooth or Vinyl easily. You can also choose between speeds of turntable according to requirement.
Build quality
The build quality or construction method proves how strong and reliable a product or an item is. The solid sound system has a weight of 8.9 pounds that shows it must be strong and reliable. The sound system Crosley T150 is also built with an aluminum cartridge so it does not ever get damaged and waste the whole sound system.
The cartridge already comes pre-mounted and aligned so it does not break while installing. The cartridge also moves with the magnetic system so it can give you a real feel of vinyl and works smoothly with magnetic moving.
Connectivity
The sound system comes with both wired and wireless connectivity through Bluetooth so you can have different options to choose from to listen to your favorite music. Very few companies offer both connectivity in one device and Crosley is one of them. The pairing of the sound system with your device is very easy, simple, and fast so you do not have to wait to enjoy your parties. These Bluetooth speakers can give you 30 watts of power for powerful sound.
Controls
You will absolutely love the amazing controls of Crosley T150 as it lets you adjust the pitch of the sound according to your mood. You can also adjust or change the speed of the turntable with the help of knobs on the sound system. It is very easy to control as you can completely control it with the help of three knobs only.
You can also change or adjust the weight of the cartridge on the turntable according to your needs and the delicateness of vinyl. This sound system allows you to change the speed of the turntable also from 33 1/3 RPM to 45 RPM records easily and conveniently. It seems difficult to adjust all these things but it is very easy and simple with the help of knobs on the system.
Installation
Installation is also considered an important part as installing the product tells how good it will work because if you do not install or assembly it correctly then this can lead to damage to the product or an item. You are too lucky and do not have to worry because Crosley T150 already comes pre-installed and assembled so you do not have to make an effort. You just need to find a suitable area to place your stereo and enjoy it.
Related: Crosley C6 Review – Worth The Money?
Pros & Cons
Pros
Impressive design.
Turntable with changing speed.
Wireless and wired connectivity.
Easy to install.
Bluetooth included.
Controls can be adjusted.
Cartridge with magnetic movement.
Fast and easy pairing.
Replaceable cartridge.
Cons
Expensive as compared to others.
Only two colors available.
Conclusion
As to conclude the Crosley T150 review, it is time that we give our final verdict on Crosley T150. Crosley is capable of offering you numerous features with an incredible and affordable price range that you can click here to check. It is a complete package with all specifications to make your party fun and rocking. The wireless connectivity and fast-speed turntable of Crosley T150 will work great for you to have an incredible experience of music.
For now, you must have read a brief description with a list of pros and cons, on the basis of which you might have decided to buy Crosley T150. The only thing left to now is to go to a website or an accessories market and order your brand-new stereo speaker for an amazing experience. We hope the best for you. Good luck.