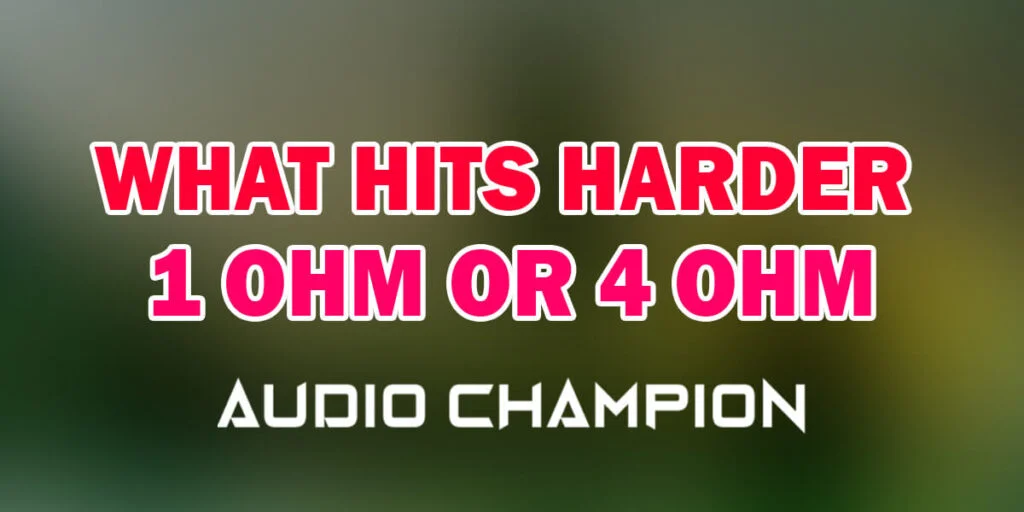 Car audio systems have a lot to do with impedance, frequency, and amp of a subwoofer. In order to get the best results out of your speaker, you need to know the impedance and amp combinations that will produce the best audio sound. For that, you will need to know more about impedance and how it is affected. Also, impedance can be changed by changing the arrangement of subwoofers in a circuit. To know more about controlling impedance of a subwoofer, keep reading further.
What is Subwoofer Impedance?
Impedance refers to the resistance of an electric circuit to the flow of current. Similarly, subwoofer impedance is defined as the resistance of a subwoofer against the amplifier output. The symbol of impedance is Ohm. Impedance can be of varying configurations such as 2,3,4 Ohms. It's power handling should match with the amp's highest RMS (root mean square).
The subwoofer must be compatible with the the amp to prevent overheating of the amp. It can be achieved by joining the subwoofer with an amp that provides an overall impedance at which the amp can work without overheating. Impedance can simply be understood as the electrical resistance of an alternating current circuit but it also has a phase as well as a magnitude.
How Does Impedance Change?
Usually, the impedance of a subwoofer is labelled but the value is never fixed. Impedance varies with the varying frequency and voice coil inductance. They both work in different ways and cause a fluctuation in the value of impedance. Their individual effects on the value of impedance is explained below.
Resonance frequency:
The term resonance frequency means a frequency below which a loudspeaker cannot generate any output sound for a given input signal. If a driver makes a movement at the resonance frequency, a counter electromotive is generated that opposes flow of voltage and produces an impedance spike.
Voice call inductance:
As the input of frequency increases in a subwoofer, it's voice call inductance increases. This is because the voice call acts as an inductor preventing the impedance from being maintained at a constant value.
Which Speaker Do You Need?
You need to understand a couple of things before you can decide if you need a high impedance speaker or a low impedance speaker. Low impedance speakers usually have an impedance ranging from 4 to 16 ohms, whereas, the high impedance speakers can have impedance up to 100 ohms. If you are looking for speakers for a car, then low impedance speakers are what you need. It also depends on the area that a speaker needs to cover. Usually, car speakers have smaller areas to cover.
However, if a long area is to be covered, then high impedance speakers should be used because they have the ability to receive audio signals from amplifiers located several meters away.
Also, a high impedance also has the ability to work with an amplifier connected to multiple speakers. It is also important to connect an amplifier with impedance similar to that of the speaker.
This means that a high impedance speaker should be connected to a high impedance amplifier and a low impedance speaker to a low impedance amplifier. This is the best way to prevent damage to the speaker and the amplifier.
Which is the Right Impedance for Your Car's Speakers?
Using a low impedance subwoofer can require you to increase the amp which can result in damage of the equipment. So, it is necessary to know the amp of your car's speakers to prevent this damage. Cars usually contain 4 ohm speakers because of the 12 volt D.C supply. As the impedance is so low, more power is consumed by the speakers despite the low voltage audio amp.
How Can Impedance be Varied?
You can also vary the impedance of a speaker by your own self. This can be obtained by arranging the subwoofers in different combinations. The two basic combinations possible for any circuit are a series combination and a parallel combination. Both of these combinations can be made individually or even together for achieving different overall impedance for the circuit using subwoofers of a specific impedance.
Read below to find out how you can make circuits of difference impedance using any subwoofer available.
Series combination:
As the name suggests, this combination involves the arrangement of subwoofers in series with each other. The subwoofers are connected consecutively with each other. All the values of individual subwoofers are added and their sum is the total impedance of the circuit. This total value determines the power and the sound quality of the speaker.
Parallel combination:
 A parallel combination involves the arrangement of subwoofers parallel to each other in a way that they never meet. In such combination, the total impedance of the circuit decreases as it is equal to the sum of individual impedances divided by the total number of subwoofers.
Also Read: Do You Need an Amp for Door Speakers? Read Out The Reasons
What is the Difference Between 1 ohm and 4 Ohm Impedance?
1 ohm and 4 ohm are just two different values of impedance of a subwoofer. However, different values of impedance means different values of power and a very big difference in sound quality of a speaker. The relationship between the impedance and power is inverse. This is quite rational as if the impedance of a speaker is high, less amount of current will be able I flow through it.
Consequently, it will consume less power than a speaker with a low impedance. This causes difference on sound of the two subwoofers. In this case, the question is why do we need a high impedance speaker? The answer is that low impedance uses high amp which causes amps to heat up. This can result in the amp blowing up and a dangerous accident can occur.
So, different impedance is needed for different subwoofers which is why having a variety of different impedance subwoofers is crucial.
Which Ohm Hits Harder?
It is a very common question that which one of the 1 and 4-ohm resistors hit harder? The answer is 1 ohm impedance subwoofer. This is because it produces more electrical output for the same amount of power provided than a high impedance subwoofer. So, the sound of the rue low impedance subwoofer is louder but the sound quality of the high impedance subwoofer is better.
Moreover, low impedance subwoofer is expensive in comparison to the high impedance subwoofer. The amp of low impedance subwoofer also heats up quickly but the high impedance subwoofer has a higher amp efficiency.
Conclusion:
Deciding which speaker you need is highly dependent on many factors. Before you decide on which subwoofer you need, you should read guides that can help you understand what is the best impedance for your speaker and what combination of subwoofer circuit you should have in your audio system. Also, if you are low on the budget, then consider a high impedance because it will consume less power and produce better sound quality.